Fantasy Baseball Prospect Watch: Will the Nats make a change at SS?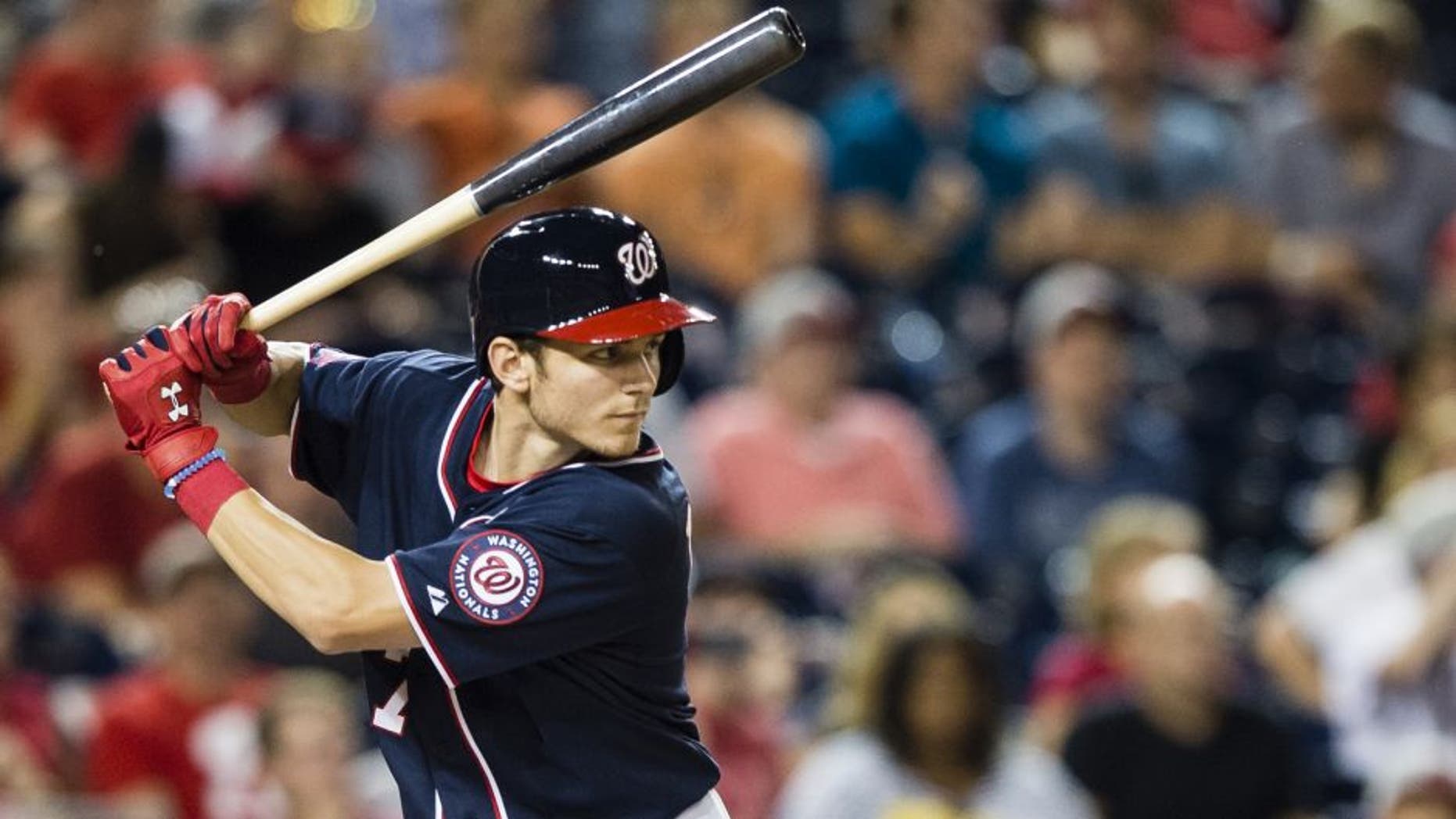 Rangers OF Nomar Mazara (nine HR, .815 OPS) has acquitted himself pretty well since getting called up in early April, and Tigers SP Michael Fulmer (5-1, 3.24 ERA, 44 K in 41 2/3 IP) has helped fantasy owners who had the foresight to grab him from the free-agent pool.
You might be able to get some help from future callups as the season continues, but some of the big names aren't the locks you'd expect. Read on to see which players should be on your radar.
Trea Turner, SS, Nationals
Turner is batting .310 with three home runs, 38 runs scored and 17 stolen bases in 50 Triple-A games this season. His blazing speed will be his immediate fantasy calling card for the moderately aggressive Nats, though he might develop some power in time.
It would seem that Turner has a clear path to the majors, with only Danny Espinosa (.200 BA, .637 OPS) blocking him. However, the Nats are in the upper half of the league in runs scored, so they might be content to keep playing Espinosa's strong glove every day, at least for awhile. Dusty Baker said recently that Espinosa is "definitely contributing to this team," so be patient with Turner.
A.J. Reed, 1B, Astros
After a slow start, Reed has his OPS up to .819 at Triple A, with six homers in 37 games. Standing in his way are the struggling Tyler White, and uninspiring vets Luis Valbuena and Marwin Gonzalez (though they both also play third base). Reed whiffs quite a bit, so he might struggle early, but his 2015 minor-league numbers (.340, 34 HRs) suggest plenty of thump in his bat. If Reed keeps heating up, we could see him before the All-Star break. He's a terrific prospect.
Tyler Glasnow, SP, Pirates
The 6'8" Glasnow is one of baseball's best pitching prospects, with a mid-90s fastball and a very good curve. He's had control issues this season, with 29 walks to go along with 72 strikeouts in 61 innings. Glasnow's ceiling is immense, but if he's not throwing strikes, the Pirates won't be inclined to rush him. Especially when they have ...
Jameson Taillon, SP, Pirates
Taillon missed the 2014 and 2015 seasons due to Tommy John surgery and a hernia. His return to action has been very encouraging, as he's posted a 1.79 ERA with a 0.80 WHIP and 54 strikeouts versus just five walks in 55 1/3 innings. When the Bucs get tired of Jeff Locke or Jon Niese, bet on Taillon to get called up before Glasnow. He should be pretty good, too.
Blake Snell, SP, Rays
Baseball America's Minor League Player of the Year for 2015 has whiffed 125 batters in 95 2/3 Triple A innings over the last two seasons. He's probably ready, even if he's walking too many batters this year (24 BB in 51 1/3 IP). Rays' No. 5 starter Matt Andriese has been decent and all, but we should expect to see Snell for most of the second half, and plan for him to be rosterable in most formats.
Joey Gallo, 3B/OF, Rangers
Get out of the way, Mitch Moreland. Stand down, Ryan Rua. Gallo is batting .286 with 10 homers and a strong 1.095 OPS at Triple A this season, and has lowered his strikeout rate to a perfectly acceptable 24 percent. He's also walked 26 times in 125 plate appearances, probably due to a combination of patience and the sheer terror that minor-league pitchers experience when facing him. Gallo WILL hit plenty of home runs in the majors when the Rangers decide to give him his next chance.
Alex Reyes, SP, Cardinals
Reyes missed April and most of May while serving a marijuana-related suspension, but the absence helped curb a workload that is likely to see an innings limit. Baseball America gives Reyes' fastball an 80 grade, and he has whiffed 26 batters in 15 innings over his first three starts. If the Cards' rotation suffers an injury, Reyes is a likely second-half callup.
Orlando Arcia, SS, Brewers
Before the season started, a short-term Arcia promotion seemed likely. Jonathan Villar has disrupted that plan, posting a .409 on-base percentage and stealing 19 bases in 51 games.
Fortunately, Villar has some experience at third base and in the outfield, and isn't the best shortstop you've ever seen. The 21-year-old Arcia has been pretty good at Triple A, batting .306 with four homers and eight stolen bases in 46 games. If he gets promoted soon, his fantasy value will lie in his speed, though he'll probably bat low in the order.
Tim Anderson, SS, White Sox
Tyler Saladino and Jimmy Rollins aren't standing in anyone's way for long. Anderson swiped 49 bases at Double A last season, and has 10 this year while slashing .299/.324/.722 in Triple-A Charlotte after a miserably slow start. If he continues to hold his own in the field, he might help your stolen-base fortunes later this season.
Alex Bregman, SS, Astros
If Ken Rosenthal thinks the Astros might promote Bregman to play third base, we'll listen. Bregman is slashing .313/.423/1.409 with 12 homers at Double A, and if he keeps tearing up the minor leagues, why wouldn't they call him up to upgrade their offense at the hot corner?
Hunter Renfroe, OF, Padres
Renfroe's power surge has included 12 homers in 49 games at Triple A (Caveat: It's the Pacific Coast League). Unfortunately, he's not walking much at all, and the Padres will need to move Matt Kemp or Melvin Upton Jr. back to center field (or trade Upton) to make room for him. Keep Renfroe in mind for deeper mixed leagues, as the struggling Padres have every reason to give him a chance.
What's that? You think we forgot a couple of blue-chip pitching prospects? Not exactly ...
Julio Urias, SP, Dodgers
Urias allowed four Cub homers in his second start on Thursday, which he made only because Kenta Maeda was skipped due to injury. Even with Alex Wood on the DL, it's unclear if Urias will get another start or be sent back to the minors.
For all Urias' gifts, he's 19 and probably on an innings limit that will make him a big-league reliever for the final two months of the season. He should do well in that role, and will be fun to watch, but electric setup men don't help fantasy teams much.
Lucas Giolito, SP, Nationals
Entering the season, Giolito and Urias were considered baseball's two best pitching prospects. But while Urias has dominated at Triple A, Giolito is struggling at Double-A, with a 3.17 ERA, 42 strikeouts and 27 walks in 48 1/3 innings. His future is still very bright, but unless he turns things around in a hurry, we won't see much of him in 2016.