Ex-NFL QB Josh Freeman has butterfingers in turnover-filled FXFL debut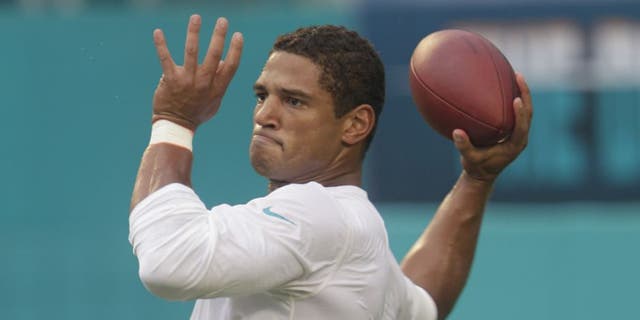 NEWYou can now listen to Fox News articles!
Former first-round pick Josh Freeman attempted to make an NFL comeback this offseason after failing to make a start since 2013. He was signed by the Miami Dolphins on two separate occasions, but he was also cut twice and failed to make the 53-man roster prior to the season.
Freeman made the jump to the Fall Experimental Football League where he signed with the Brooklyn Bolts, and he made his debut on Friday -- albeit, not a great one.
According to Tim Casey of the New York Times, Freeman completed 9-of-16 passes for 32 yards, with one touchdown, one pick, and a ridiculous five fumbles. He averaged just two yards per attempt and clearly didn't have any success in a league that a former first-round pick should stand out in.
Freeman's five fumbles would have been "good" for the third most in an NFL game by one player, to put into perspective how eye-popping that statistic is. His inability to hold onto the football led to a 29-6 loss for the Bolts in the team's first game of the season.
Freeman refused to speak to reporters after the game, but his head coach Terry Shea talked about his performance.
"I've got to think that this was maybe just one of those nights where a perfect storm came together for him," Shea said. "It really controlled him."
Needless to say, it doesn't look like Freeman will be making a return to the NFL any time soon, but he refuses to let his dream of playing football die. Going to the FXFL was surprising, but Freeman believes it will help his development if he does get the call from an NFL team.
Whether that will happen remains to be seen, but Freeman is definitely keeping an open mind.
"I just wanted to keep playing football in any capacity and continue to stay sharp," Freeman said Thursday in a telephone interview with the New York Times. "Stepping in the huddle and calling plays and that whole procedure and process, maintaining my routine that comes along with being in season, I think it gives me a better shot to perform at my highest level if a team does call me up."
MORE NEWS: Want stories delivered to you? Sign up for our NFL newsletters.