Eli Manning details how Peyton tortured him as a kid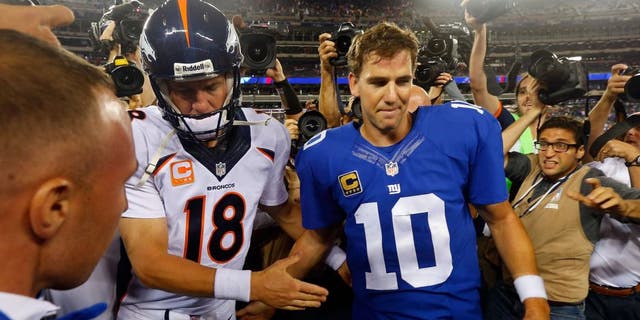 NEWYou can now listen to Fox News articles!
Talk about a sibling rivalry.
Up until this past Sunday, Eli Manning had his brother Peyton one-upped in the Super Bowl department. Now the Manning brothers are tied 2-2 in Lombardi Trophies, and while that's quite a feat, you wonder if Eli may have secretly enjoyed having those bragging rights.
The Giants quarterback and two-time Super Bowl MVP joined Pro Football Talk last week to talk about his big brother. While the Super Bowl and Peyton's future endeavors were certainly on the docket, an interesting bit of intel was revealed when Eli was prodded about what it was like growing up together.
Via PFT:
"You know they were pretty nice to me," Eli said. "I think the biggest thing they did, mostly Peyton because you know Cooper is older than him, [Cooper] would pick on [Peyton]. So I come along, I'm gonna take it. So [Peyton] would pin me down, you know, put his knees on my arms. He'd just start knocking on my chest until I named at the time the 28 teams in the NFL. So I got smart eventually I could rip those off pretty quickly. We went college divisions, different things and then if he just wanted to make me cry he'd say, 'Name ten brands of cigarettes.' I'm like, 'I'm seven years old I haven't started smoking cigarettes quite yet,' but that's when I'd just start yelling for mom."
Yikes. Peyton sounds like a pretty typical older brother, but the cigarettes trivia is an interesting touch. It's like he figured out how to call an audible once Eli had figured out the rest of the insane trivia Peyton had subjected him to.
Well, it's a good thing the Mannings eventually grew up. Asked which of them had a bigger competitive spirit, Eli said they both show it in different ways.
"I think we're both very competitive. He just has that fiery instinct and that snarl. We both love to win and hate to lose," Eli said.
And of course, asked about whether or not his big bro will retire, and Eli said: "I don't (even) think he knows."
Maybe Eli is big enough now that he can pin Peyton down and get the information out of him for all of us. Especially after this little doozy Peyton dropped on Fallon Wednesday night.