Eagles fan scores Super Bowl tickets from team after viral online video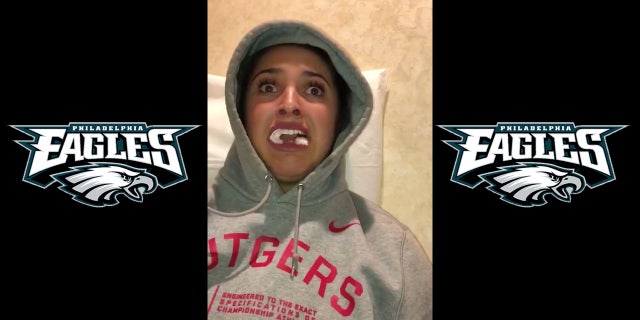 A New Jersey college student who nearly broke down when she thought she missed the Super Bowl in a viral video after getting her wisdom teeth removed said she's "freaking out" because she got two tickets to the game, courtesy of the Philadelphia Eagles.
The video of Haley Parks, which was initially posted on Facebook Tuesday by her father Bob, was shared on the team's page on Friday, telling Parks of the exciting news.
"Hey Haley, we've got two tickets waiting for you in Minnesota," the team said.
IN SUPER BOWL PRELUDE, WING BOWL CHAMP DOWNS 501 IN 30 MINUTES
The Rutgers University student told NJ.com that she's "currently freaking out" and "did not expect tickets whatsoever." Her parents were reportedly scouring for airline tickets to get her to Minneapolis on Sunday.
The video, recorded by Parks' mother, shows the girl babbling as she comes out of anesthesia. In it, the 21-year-old gets super emotional, and even tears up at some points, while worrying that she missed the game. Then she goes off on a tangent about the Eagles' defense being better than the Patriots and whimpers, "who cares about Tom Brady."
"Did I miss the Super Bowl?" Parks asks, suddenly panicked. "Oh my God!"
Her mom tries to console her, insisting that she hadn't missed anything. "I want the Eagles to win so bad," Parks mumbles through a mouth full of cotton wads.
SUPER BOWL LII: HOW TO WATCH AND WHAT TO KNOW
After Parks' mom says she should tell the team how much she "rooting for them," Parks, looking totally bewildered, says "How am I going to tell them Mom? I don't have their telephone numbers!"
As of Saturday, the video had more than 38,000 shares and was watched 3.5 million times.
While Parks may be excited now about the game, she'll likely have to steer clear of some fan-favorite tailgate foods once she gets there. Hot, spicy foods – like buffalo chicken wings – and alcohol are among the things to avoid after getting your wisdom teeth pulled, according to Livestrong.
The Associated Press contributed to this report.