Don't you dare disrespect the Broncos defense in front of Von Miller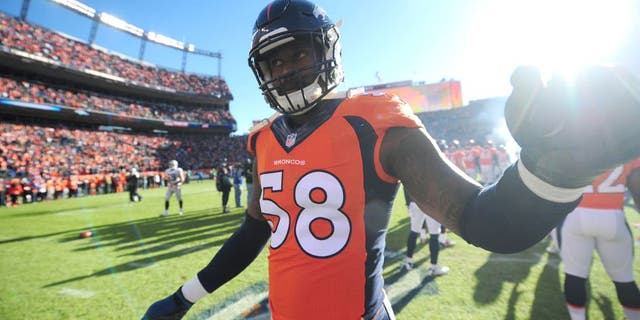 Even one or two detractors is too many if you ask Von Miller. Ron Chenoy USA TODAY Sports
You'd be hard-pressed to find an NFL analyst who'd pick against the Broncos as the league's best D.
But Von Miller swears he's heard a few haters. And he's using whatever he can scrounge up as motivation.
"I still don't think we are getting the love we should get," Miller told Troy E. Renck of the Denver Post. "In prime time, we should be able to prove our point."
Miller is right about one thing; the Broncos defense has an opportunity to prove something on vs. the Packers in two weeks.
But it won't be whether or not his team fields the best defense in 2015. It'll be whether or not Miller plays on an all-time unit capable of shutting Aaron Rodgers and Co. down.
His team has 26 total sacks. It leads the league with 17 takeaways. And if Miller has his way, every single person will agree they're the best.
"It's a big-time game going against a big-time offense (in Green Bay)," Miller said. "Aaron Rodgers on Sunday night football -- it's going to be a time where we can go show everybody what the Broncos defense is all about."
MORE NEWS: Want stories delivered to you? Sign up for our NFL newsletters.