Dolphins reveal secret to stopping Watt: 'Put all five linemen on him'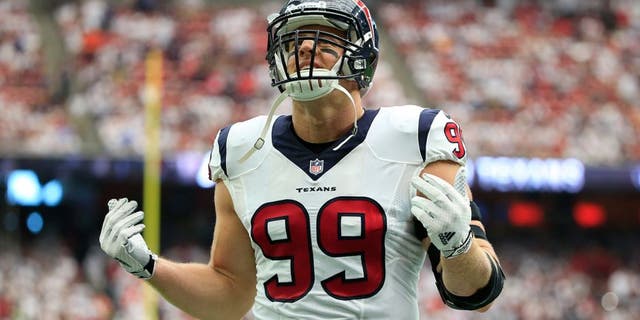 NEWYou can now listen to Fox News articles!
J.J. Watt is one of the toughest guys to game plan around, but the Dolphins are ready. Kevin Jairaj USA TODAY Sports
There aren't many defensive players teams have to specifically game plan around to stop. Without a doubt, Houston Texans defensive end J.J. Watt is one of them.
The next team up in attempting to stop Watt are the Miami Dolphins. Fortunately, head coach Dan Campbell has a great way to shut him down.
"We have a good plan this week," Campbell joked, via James Walker of ESPN. "We are going to put all five linemen on him and shut him down and hope nobody else gets to us."
A bold strategy for the first-year head coach, but sadly, it won't work. And as ridiculous as it sounds, it could be the only way to stop the All-Pro.
On a more serious note, the Dolphins actually do have a plan for slowing Watt -- because stopping him is near-impossible to do.
"You're just going to have to be physical with him," guard Dallas Thomas said. "He's going to be physical back with you and you gotta be ready for it."
He's not an easy guy to prepare for, but the Dolphins have already committed time in practice to prep for him. Guard Billy Turner knows it won't be a cake walk, but in studying film, he ready for the challenge.
"We have to try to sell run on [Watt] so sometimes he gets caught," Turner said. "You also don't want to go all the way out to him [in pass protection], so you protect yourself for inside moves and things like that. Those are things I'm looking to improve in practice."
MORE NEWS: Want stories delivered to you? Sign up for our NFL newsletters.