Despite success Zimmer's Vikings still 'blue collar'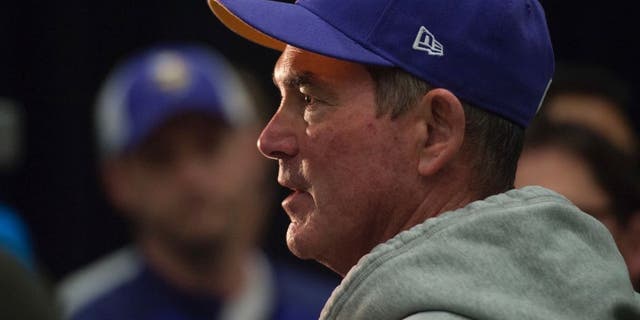 NEWYou can now listen to Fox News articles!
Minnesota Vikings head coach Mike Zimmer doesn't mind being recognized.
He'll take photos and sign autographs when called upon, but the taciturn Vikings boss isn't exactly one to seek out the spotlight.
"I don't go out of my way to be a celebrity," Zimmer told reporters as the Vikings reconvened for OTA practices.
Even as his NFL star has risen, bolstered by a division title and an ascendant defense, Zimmer hasn't let his recent successes with the Vikings change the philosophy that made him so successful as a defensive coordinator with the Cincinnati Bengals.
"If you ask the guys from Cincinnati, or if you ask the guys who were around me before I think, I don't want to change, I want to be myself," he said.
Zimmer molded the Bengals' defense into one of the league's best, as his squads ranked in the top 10 for total defense in four of his six seasons with the team, cracking the top five twice.
His success earned him plenty of love from his players, and it's an appeal that extends to the other side of the ball as well.
The Vikings signed former Bengals offensive tackle Andre Smith to a one-year deal in March, and although his history with defensive back Captain Munnerlyn stretches all the way back to their high school days, the veteran defender says that Smith didn't consult with him when free agency began.
"The first day I got here I talked to him, and he's like 'man, I started to hit you up, but I've got coach Zim already. I wanna play for Zim,'" Munnerlyn said.
Zimmer's views on celebrity seem to extend to his goals for the Vikings, even as the team's stock continues to rise following a successful 2015 campaign.
"It's important that we understand who we are, what kind of team we are," Zimmer said. "We're a blue collar team that works hard, that doesn't make a lot of mistakes, that doesn't commit a lot of penalties, that doesn't beat ourselves."
His job, Zimmer said, is to keep his players grounded, even as they swagger into the summer looking to defend their title.
"It's okay to be that way. Let's not try and be someone else, because everybody says we're this, or we're gonna be good or whatever," Zimmer said. "It's my job to remind them how we have to play in order to win games, and remind them where we came from and who we are."
Follow Ryan Lund on Twitter