Dantonio still not concerned about MSU's closer-than-expected wins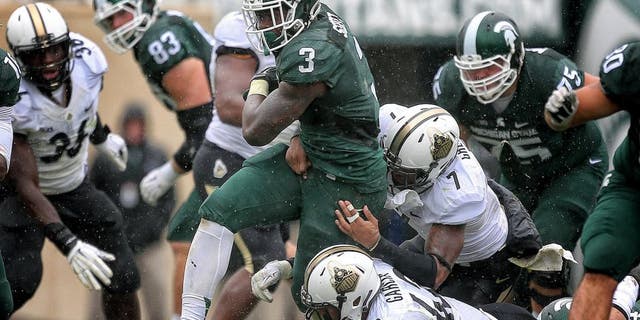 Michigan State football coach Mark Dantonio had to answer questions about a closer-than-expected win for the second week in a row, and for the second week in a row, he did not express much concern.
This time it was in the aftermath of the second-ranked Spartans' 24-21 win over Purdue.
"The bottom line is, do you win or do you lose?" Dantonio told reporeters in East Lansing on Saturday before referencing for the second week in a row the 2002 Ohio State national championship team on which he was defensive coordinator. "I've said that before. I've been (a coach) on a football team that would win by about six points or four points and on the last play of the game. All they did was win 14 games.
"So, the bottom line is just win. You're the No. 2 team in the nation, you're going to get everyone's best shot. They're going to come in, they're going to play as hard as they can possibly play. Things happen. I can't predict that we're going to drop the ball on a punt. What I can say, is afterwards I can tell them it's okay, line up, you got to go again, handle adversity. That's what I can do, but I can't predict that that is what is going to happen. It's 21-0 at that point, we're at midfield, there's six minutes to go in the third quarter. We're on track. We're on track to do what we need to do. Things change. It's like the weather around here."
Co-offensive coordinator Jim Bollman, who was the offensive coordinator for that Buckeyes' team Dantonio conceded wet weather had an effect on how the Spartans chose to try to close out the game against the Boilermakers.
"That was a factor," Bollman said. "I think we were pretty effective running the ball the entire football game. There were some times that we needed to finish things off. If we don't get that one football striped out in the end zone, that could've made things a lot different in that situation.
"Certainly, we hope things don't end up in this fashion every week. I understand the gesture of your question. I've been through this a million times and it's great when you're playing a great defense. A win is a win. Give Purdue credit, they did a great job coming back and we had some opportunities that we did squander, though. We turned the ball over on fourth down on the punt, that was the big thing that really got the ball rolling. The defense hung in there and helped us out."