CUP: Keselowski Piling Up Top-Five Runs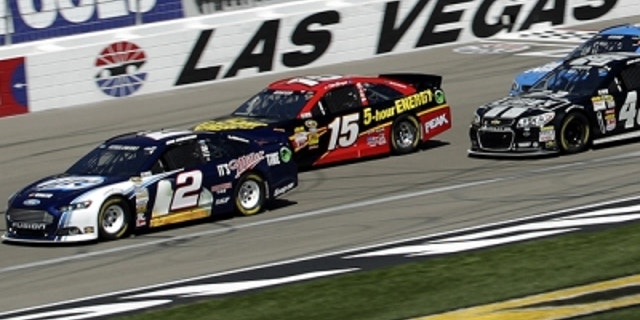 Three races into the defense of his 2012 Sprint Cup championship, Brad Keselowski owns a statistic that impresses – he's the only driver with top-five finishes in all three events.
Keselowski finished fourth at Daytona and Phoenix and third Sunday at Las Vegas. He rides second in points to Jimmie Johnson.
But Keselowski isn't satisfied.
"Dang, we are stupid close to winning," he tweeted after the race. "Trying to just be proud of the effort, but we wanna win!"
In a press conference after the race, Keselowski said the early-season finishes back up the strength of his closing run to the title last year.
PHOTOS:
Kenseth Wins
Kobalt Tools 400 Race
"I want to win really bad, but I guess the consolation is starting out the year with three solid finishes and a top five and just kind of backing up where we finished last year with solid runs," he said. "For that I'm proud, proud of the effort today to recover from a couple mishaps. [We] certainly didn't give up there at the end. I thought I might have had a shot.
"But still, like I said, solid day, great effort, and we're off to a really solid start, really the best start of my career by far."
Keselowski led 12 laps Sunday.
"I'm sure when I get home tonight I'm going to go home and throw around some pillows and punch some things because we've had a shot at winning all three races and come up short, whether it's circumstances or bad luck or today just a little bit of execution.
"In retrospect, once you get a day to cool off from it, you say, wow, that's really good, three top fives, that's how I'd have wanted to start the year. But, with the way I finished last year, I wanted to win. I wanted to win all three of these races, and I'm not happy unless we can do that."
Mike Hembree is NASCAR Editor for SPEED.com and has been covering motorsports for 31 years. He is a six-time winner of the National Motorsports Press Association Writer of the Year Award.