CUP: Kenseth Eighth Despite Dominant Day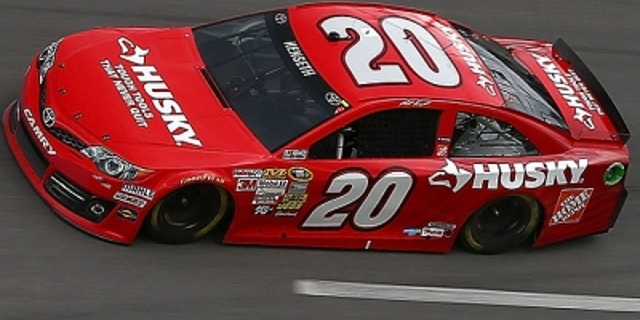 The darkness fell hardest Sunday on Matt Kenseth.
Kenseth has had the strongest car in both of this season's restrictor plate races and has been shut out of victory lane in both. In fact, he doesn't even have a top five to show for all that power.
Kenseth had the lead with two laps to go Sunday in the Aaron's 499 at Talladega Superspeedway but lost control of the race in the frantic draft over the closing miles and finished eighth.
Front Row Motorsports teammates David Ragan and David Gilliland pushed through the pack in a perfect draft on the final lap of a green-white-checkered finish, with Ragan winning the race in a major upset as darkness was closing in.
Kenseth fell from first out of the top five at the end of a crazy, rain-soaked race day at Talladega.
"It was a good run and a really disappointing finish," said Kenseth, who congratulated the winning team.
"That was cool to see the underdogs go up through there and grab one. Carl (Edwards) got a rocket restart and cleared me down the backstretch.
"I was second and still thought we had a shot. I tried to get a run on Carl and he blocked, which he should have. He got me pretty far up the top. I saw David was coming, but I knew if I pulled in front of him there would be a wreck."
It would be difficult for Kenseth to have had a better race car in the Daytona 500 or in Sunday's race, the only two plate races run to date.
Kenseth led 86 laps at Daytona in his first points race with Joe Gibbs Racing but wound up with a 37th-place finish after leaving the race with engine problems after 149 laps.
His was the car to beat again Sunday, leading 109 of the first 141 laps of the race, including chunks of 19, 18, 32 and 24 straight laps. He led 142 laps total, and no other driver led more than 16.
And, near the end of a wreck-happy day, he had the catbird seat for the green-white-checkered, sitting in first place when the green fell. Edwards shot past him after the restart, however, and then the Ragan/Gilliland combo surprised everybody, coming through the middle to take the win.
Mike Hembree is NASCAR Editor for SPEED.com and has been covering motorsports for 31 years. He is a six-time winner of the National Motorsports Press Association Writer of the Year Award.