CUP: Hendrick Squad Rebounds Nicely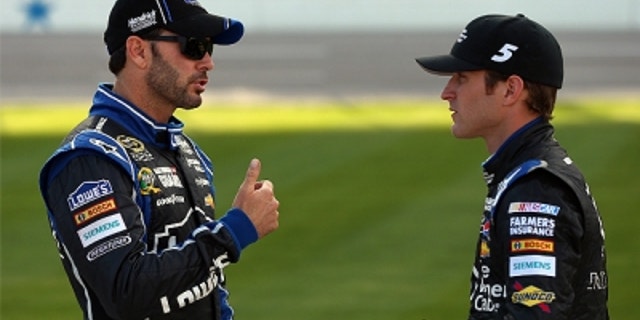 On Friday, the news wasn't very good at Kansas Speedway for Hendrick Motorsports. But by the time the team left late Sunday afternoon, the picture had brightened considerably, one reason why the team has more NASCAR Sprint Cup championships than any other team.
None of the four Hendrick drivers practiced better than 15th during Friday's 90-minute Sprint Cup practice. When qualifying rolled around later that afternoon, the results were even worse: Jimmie Johnson was 21st in time trials, the best of all the four drivers.
And, yet, when the checkered flag flew after the completion of the STP 400 Sunday afternoon, Kasey Kahne finished second, just 0.150 seconds behind Matt Kenseth in the second-closest finish of the season. Johnson came home third, with Jeff Gordon 13th, three places ahead of Dale Earnhardt Jr.
More importantly, Johnson left with a 37-point lead in the Sprint Cup standings over Kahne, who gained five positions from last week to move into second place. Earnhardt picked up one spot to move to fifth in points, while Gordon held onto the 15th-place slot.
Faced with a potentially very bad weekend, the Hendrick squad rallied to turn it into a pretty good one after all, which is exactly what good teams do.
Kahne said that the team put their heads together after Saturday's Happy Hour practice to compare notes and it helped tremendously.
"We all met yesterday (Saturday) and talked about things and things that worked and things that didn't work," Kahne said. "Some of us had more to talk about than others, so it was a really good debrief, and I think all of us took that and made the proper adjustments from there.
"It was a good team effort this weekend, and so far we've been able to run pretty strong — the 5 team — at a lot of the tracks from Bristol to Martinsville to Vegas and here and things," said Kahne. "I feel like we have a great team and we're in a really good spot right now."
Johnson said he, crew chief Chad Knaus and his team made some pretty big changes over the weekend.
"Last two days we've had a comfortable race car, but just didn't have the speed in it for qualifying and for the fast lap time that you would see in practice sessions, the first lap out," said Johnson. "But our car was comfortable over the long haul and we just kind of waited and hoped that the comfortable balance that I felt in the race car would be there come race time, and it was."
Still, it was not easy to get there.
"We made huge changes throughout the course of the weekend and couldn't get the car to respond," said Johnson. "And then today we tried to make smart decisions and put a setup into the car that was very similar to a run that I made in practice that I liked so much and was as at least consistent, if not the fastest, but consistent. And then today, I guess everybody slowed down to our pace. I don't know why or what, but today we were far more competitive than what we were yesterday or even on Friday."
So now, Hendrick Motorsports leaves Kansas with Johnson and Kahne 1-2 in points and only Kahne and third-place Brad Keselowski within one full race of Johnson in terms of points.
"We've been off to a great year and even had some trouble at Bristol and didn't finish as well as we did there and 37 points up on everybody is pretty awesome," said Johnson.
Tom Jensen is the Editor in Chief of SPEED.com, Senior NASCAR Editor at RACER and a contributing Editor for TruckSeries.com. You can follow him online at twitter.com/tomjensen100.