CUP: Edwards Making Gains At The Glen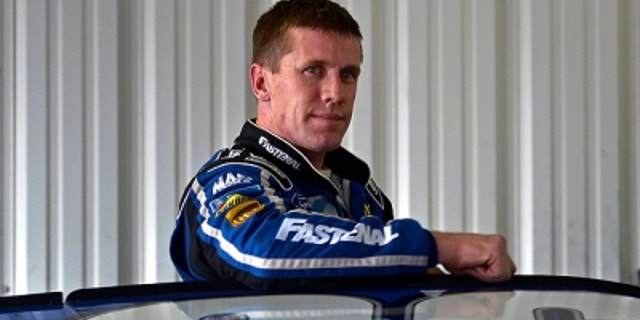 Carl Edwards' introduction to Watkins Glen International was somewhat rude.
"My first lap ever on this race track, I backed into the tire barrier in the last corner, and from there it's been all upward," Edwards remembered Friday.
Edwards is still climbing at the Glen. He's winless in seven races on the road course, although he does have three top-five runs.
A breakthrough victory in Sunday's Finger Lakes 355 would be huge as Edwards tries to rally from behind to make the Chase for the Sprint Cup.
"We've done better and better almost every time we've come here," Edwards said. "I got the pole, I think it was last year or the year before (2010), which was a huge moment for me to be able to qualify on the pole at a road course in the Cup Series.
"I think it takes a couple of things. I think I have to make sure that I communicate with Chad (crew chief Chad Norris) and we have the right strategy. I have to be aggressive on these restarts. I have to remember this whole race that we've got nothing to lose and everything to gain, so I think that I can try things that maybe I wouldn't have tried at least the last couple of years racing more for the point lead."
Edwards plans to race in Saturday's Nationwide event to hopefully pick up a little information for Sunday.
"We've tried to make the cars as similar as we can, so that I can carry over anything we learn, and maybe tomorrow's race will be a good time to try any race-line type of things I could use for Sunday, so I've got an idea of what I want to do to be the best I can be there on Sunday, and hopefully it all comes together," Edwards said.
Edwards needs at least one and probably two wins over the next five races to have a good shot at making the Chase. He and his Roush Fenway Racing teammates have been chasing Hendrick Motorsports in recent weeks.
"We've been working very hard at Roush Fenway to try to be as proactive as we can to look into the future, to try to be in the position that they're in, and we've shown over the last couple of years that we're able to stay out front more often than we historically have, and if you look at our performance just of late, when they're dominant like they are right now, we've been closer to them and we are closer to them than we have been in the past," Edwards said of the Hendrick operation.
"So, I think the things we're working on – if the things we're working on and the goals we've set are met, I believe that we'll be pretty good for the Chase. Specifically for my team, the mission is to make the Chase, but I think for Matt (Kenseth) and Greg (Biffle), it looks like they're going to be in it, and I would not bet against those guys in those final 10 races.
"I think they're going to be very good, and I think the whole garage is learning a little bit from watching those Hendrick guys, and we're all getting better."
Mike Hembree is NASCAR Editor for SPEED.com and has been covering motorsports for 30 years. He is a six-time winner of the National Motorsports Press Association Writer of the Year Award.