CUP: Earnhardt Jr. Most Popular For 10th Time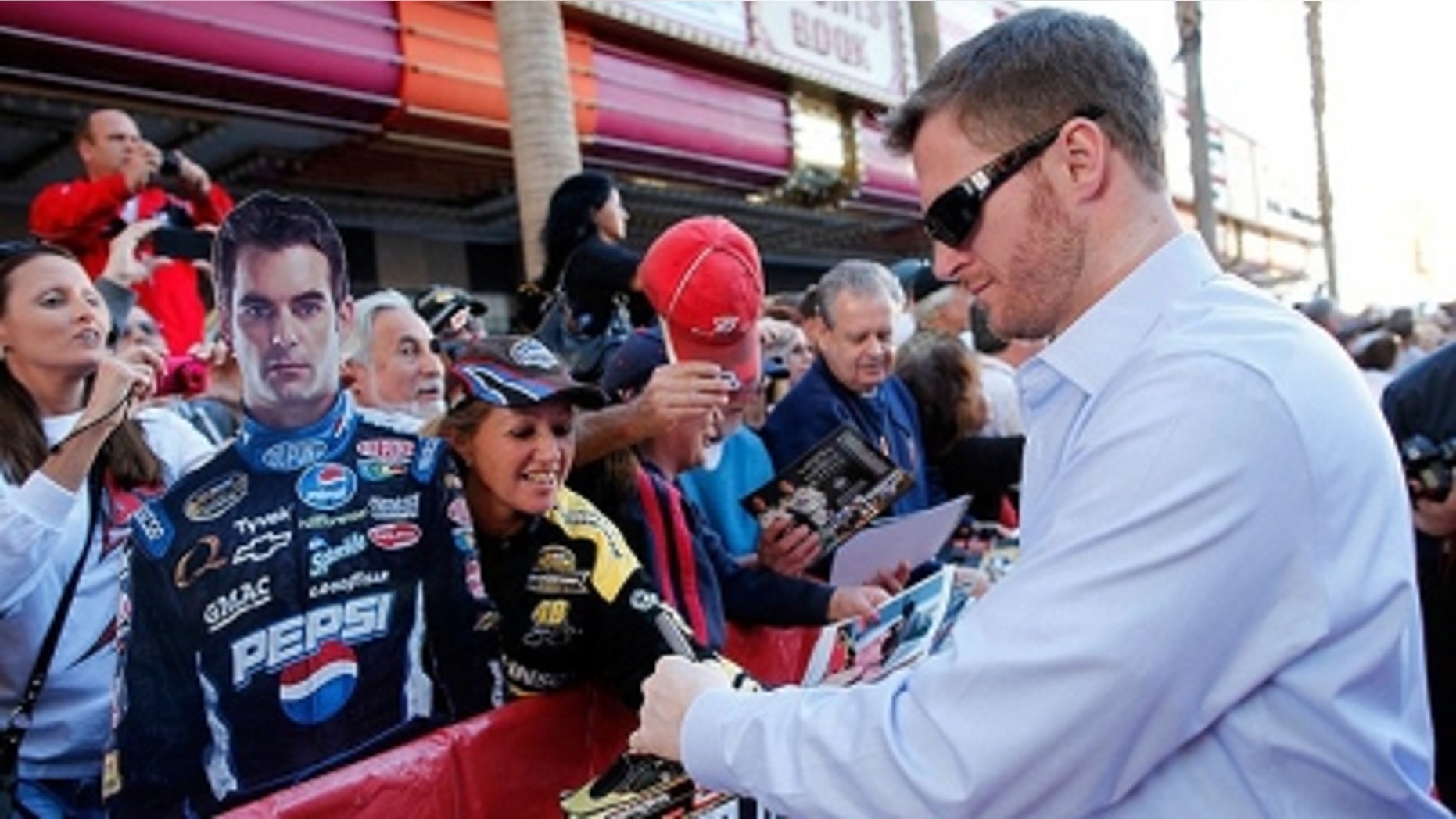 The NASCAR National Motorsports Press Association Most Popular Driver Award has become very popular with Dale Earnhardt Jr.
To almost no one's surprise, Earnhardt Jr. won the NMPA's Sprint Cup Most Popular Driver Award again Thursday. He was chosen in the annual fan voting for the 10th consecutive year.
That mark ties a record set by another very popular guy – Bill Elliott. The semi-retired Elliott won the award a record 16 times, including 10 straight.
Earnhardt Jr. won the award for the first time in 2003, his fourth full-time season on the circuit.
Completing the voting, in order, were Jeff Gordon, Kasey Kahne, Tony Stewart, Jimmie Johnson, Kevin Harvick, Kyle Busch, Carl Edwards, Matt Kenseth and Bobby Labonte.
"It was an honor to hear that I won this year and am now tied with Bill (Elliott) for 10 in a row," Earnhardt Jr. said. "I've enjoyed this award because it's a testament to my fans. I appreciate their loyalty and dedication. It was great to get back in Victory Lane this year for my team and for my fans. I'm looking forward to a successful 2013 and am proud to accept this award on behalf of all the fans that voted."
The award was presented at the NASCAR NMPA Myers Brothers luncheon at the Encore hotel/casino Thursday.
Also honored during the event, attended by the Sprint Cup Series' top 12 drivers, NASCAR officials and many other industry leaders, was four-time champion Gordon, who received the Myers Brothers Award, the NMPA's top honor. The award, voted on by NMPA members, recognizes contributions to stock car racing. It is named in memory of NASCAR competitors Billy and Bobby Myers.
Gordon began his full-time Cup racing career in 1993, winning the championship in 1995, 1997, 1998 and 2001. He has 87 career wins in his 20-year career, all with Hendrick Motorsports, and he finished 10th in Cup points this season. His contributions to the sport, though, go beyond on-track accomplishments.
He formed the Jeff Gordon Foundation in 1999 to aid children battling cancer. Through the foundation, he supports the Jeff Gordon's Children's Hospital in Concord, N.C., and has committed to help children fight cancer in Africa. Also, with sponsor AARP's Drive to End Hunger program, he works to bring attention to hunger issues among Americans 50 and older.
"Jeff Gordon is an ambassador for NASCAR," NMPA President Rea White said. "He has not only brought excitement to the sport on the track, but has brought awareness and aid to the children who most need it. He is truly a champion in every respect."
Richard Childress was also a finalist for the award.
The luncheon annually recognizes series award winners as a prelude to Friday night's Sprint Cup Series Awards banquet at the Wynn.
After the awards event, the series' top 12 drivers entertained thousands along the famous Las Vegas Strip by driving their race cars in the annual Victory Lap on Las Vegas Boulevard, complete with burnouts.
Mike Hembree is NASCAR Editor for SPEED.com and has been covering motorsports for 30 years. He is a six-time winner of the National Motorsports Press Association Writer of the Year Award.