CUP: Can Junior Rise Again At Talladega?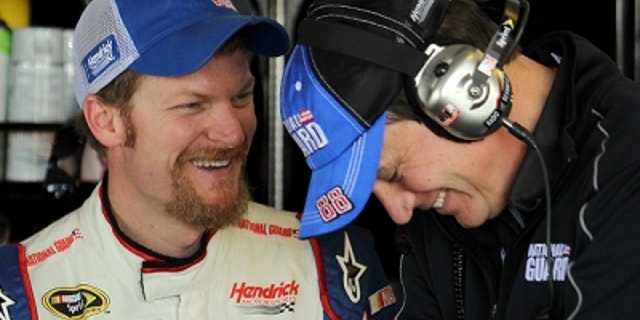 The days of Dale Earnhardt Jr.'s domination of Talladega Superspeedway, once one of the big annual stories of Sprint Cup racing, are long gone.
Like his father, who scored a record 10 Cup wins at NASCAR's biggest track, Dale Jr. once ruled the passing lanes at Talladega.
Junior won four straight races (a record) at Talladega from 2001 to 2003 and scored again in the fall of 2004. He is second on the active-driver victory list at the track with five, one short of Jeff Gordon, whose last win at Talladega came in 2007.
Junior was red-hot at the track at the same time that cars entered and built by Dale Earnhardt Inc. were red-hot. It was the perfect setup – drivers who knew how to work the often-confusing Talladega draft and cars fine-tuned to work the restrictor-plate madness found only at Talladega and Daytona.
Despite Junior's lack of recent success at Talladega, there is the suspicion that he could pop into victory lane there at any time – perhaps in Sunday's Aaron's 499.
Of the drivers in the Sprint Cup top 12 (Junior is tied for third), he is easily the top dog at Talladega. The only other drivers in the first dozen with multiple victories at the track are Jimmie Johnson, Clint Bowyer and Brad Keselowski, and they have only two wins each.
Additionally, Earnhardt Jr. has 13 Talladega top fives, while none of the other points leaders has more than 10.
Junior's average finish at the track is 15.0, which is better than everyone in the top 12 except Keselowski (12.3), who has run only eight times at Talladega.
A victory by Earnhardt Jr. Sunday would mark a bit of ironic history. Richard Childress Racing, which built the cars Dale Earnhardt Sr. rode to Talladega wins, is the team victory leader at the track with 12. Hendrick Motorsports would tie that mark Sunday with a victory by Junior (or, obviously, any of its other three drivers).
Few would be surprised if Sunday's winner works overtime. Six relatively recent races at Talladega (two in 2005 and one each in 2007, 2008, 2010 and 2012) have ended with bonus green-white-checkered finishes.
Mike Hembree is NASCAR Editor for SPEED.com and has been covering motorsports for 31 years. He is a six-time winner of the National Motorsports Press Association Writer of the Year Award.