Coyotes promote Steve Sullivan to assistant general manager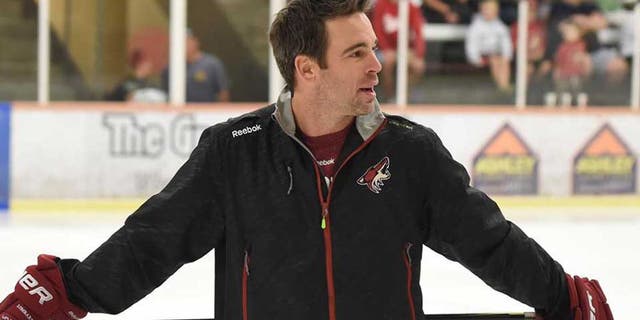 GLENDALE, Ariz. -- The Arizona Coyotes have promoted Steve Sullivan, from director of player development to the position of assistant general manager.
"Steve has done an excellent job in his role as our Director of Player Development and he is very deserving of this promotion," general manager John Chayka ssaid. "Steve is a Coyotes alumni who has played over 1,000 games in the NHL. He offers a unique and important perspective to our staff. I'm confident that he's ready to take on this new role with increased responsibilities and I look forward to working with him."
Sullivan, 42, joined the Coyotes hockey operations department on Sept. 8, 2014 as the team's development coach. Last May he was promoted to director of player development. In his new role, Sullivan will serve as the general manager for the Tucson Roadrunners (AHL) in addition to overseeing the Coyotes' amateur player development staff.
"I'm very excited about my new role with the Coyotes," said Sullivan. "I'm very grateful to John for his belief in me and look forward to helping him build a winning team in the Valley for years to come. We have a great nucleus of young, talented players in our organization and an extremely bright future ahead."
Prior to joining the Coyotes front office, Sullivan played 16 seasons in the NHL with the New Jersey Devils, Toronto Maple Leafs, Chicago Blackhawks, Nashville Predators, Pittsburgh Penguins and the Coyotes.
The Timmins, Ontario native totaled 290-457-747 in 1,011 career NHL games. In 2009, he was the recipient of the Bill Masterton Trophy, which is awarded each year to the National Hockey League player who best exemplifies the qualities of perseverance, sportsmanship and dedication to hockey.
The Coyotes also announced today that Jake Goldberg has joined the team as director of hockey operations and Dave Griffiths will serve as the director of team services.
Goldberg joins the Coyotes after four seasons with the London Knights (OHL) as assistant director of scouting and assistant general manager and director of analytics.
Griffiths comes to the Coyotes after 17 years with the Toronto Maple Leafs organization, including 10 years as manager of team services.