Cowboys Coaching Connections: New Orleans Saints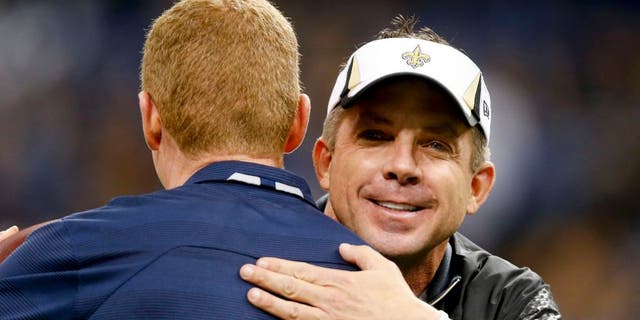 The Dallas Cowboys and New York Orleans Saints coaching staffs have tie-ins outside of Sean Payton's tenure as Cowboys unofficial offensive coordinator from 2003-05 and Rob Ryan's post as defensive coordinator from 2011-12. Here is some of the history the two staffs share ahead of their Sunday night showdown in the Big Easy:
*Head coach Jason Garrett served as backup quarterback from 1989-90.
*Director of Pro Scouting Judd Garrett and Saints receivers coach Henry Ellard worked for the St. Louis Rams under passing-game coordinator Scott Linehan from 2006-07. Ellard coached, receivers, Garrett coached tight ends, and Linehan was head coach.
*Fun Henry Ellard fact: has been on the staff of three of the four interim coaching staffs that beat the Dallas Cowboys: '05 Rams, '08 Rams, '12 Saints.
*Tight ends coach Mike Pope worked with New Orleans assistant secondary coach Andre Curtis from 2006-08 with the New York Giants. Pope coached tight ends as Curtis was an assistant defensive coach.
*Secondary coach Joe Baker worked with Saints defensive line coach Bill Johnson from 2007-08 with the Denver Broncos in their respective capacities.
*Linehan and New Orleans special teams coordinator Greg McMahon coached together for UNLV in 1991. Linehan coached quarterbacks as McMahon coached tight ends and special teams. McMahon is also part of that Eastern Illinois connection, class of '82, of which Sean Payton (class of '82) and Tony Romo (class of '03) are part.
*Rod Marinelli employed Saints assistant special teams coach Stan Kwan with the Detroit Lions from 2006-08 when Marinelli was head coach. Later, Kwan worked with Linehan in Detroit when he began his stint as their offensive coordinator in 2009.
*Strength and conditioning coach Mike Woicik served in the same capacity under Saints head coach Mike Ditka from 1997-99. Also working for the Saints during Ditka's entire stint was Cowboys assistant director of pro scouting Judd Garrett as an offensive assistant. Another connection is Cowboys strength and conditioning coach Brett Bech, who played wide receiver there from 1996-99.
*Saints general manager Mickey Loomis has a son, Alex Loomis, who is a pro scouting assistant with the Cowboys.
*Saints assistant strength and conditioning coach Rob Wenning served in the same capacity for the LSU Tigers from 2008-10, which means that he worked in the weight room with Morris Claiborne from 2009-10.
MORE FROM FOX SPORTS SOUTHWEST:
- PHOTOS: Cowboys Cheerleaders Auditions
- Ranking NFL quarterback salaries
- Highest paid player on every NFL team
- College football's biggest video boards