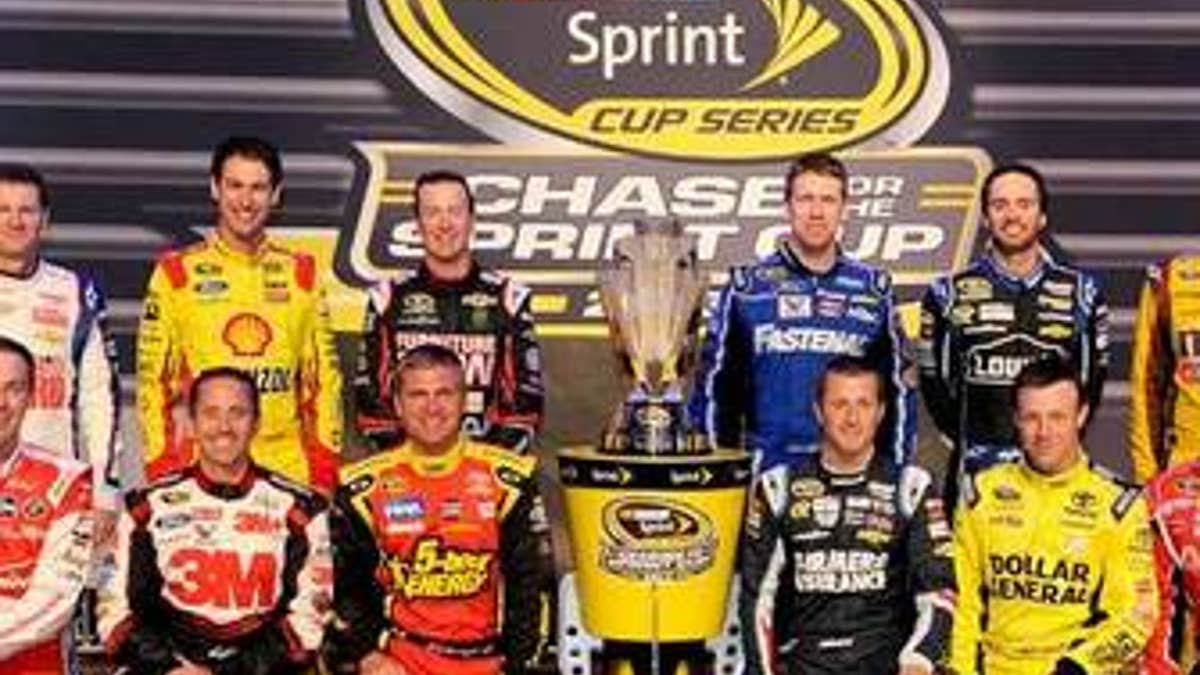 CHICAGO – Jimmie Johnson is right.
The Pandora's Box is opened -- and for NASCAR, it might never close again.
Those inside NASCAR understand that certain nuances occur between teams and drivers on a weekly basis that alter the outcome of a race. Some rituals such as allowing a teammate to lead a lap or one driver offering another his lap back are commonplace within the fabric of the sport.
But some of the team strategies that were publicized after the race at Richmond International Raceway on Saturday -- whether it was Clint Bowyer's spin, Brian Vickers' decision to pit or David Gilliland offering a position on the track to Joey Logano -- might have fans watching the sport in a whole new light.
"A lot of people have different opinions of it, and that's the delicate part that NASCAR is trying to deal with," said Johnson, a five-time Sprint Cup champion. "Letting someone lead a lap has been a no-brainer. It hasn't offended anyone over the years. A lap back, back in the day when we were able to do that kind of thing, didn't bother anyone.
"But it sure seems like -- and for rightful reasons -- a lot of sensitivity when it comes to the last race and the impact it had on who went into the Chase. It's a slippery slope, and once you look at Richmond and one point puts the 24 (Jeff Gordon) in -- you can look at the course of a whole 25- or 26-race schedule and think of a point here or there could have made a difference.
"I've seen the term 'Pandora's Box' quite a few times, and I agree -- it's opened it up."
Johnson insists there have never been any team orders at Hendrick Motorsports "to pull over and let someone go." Johnson says there's only one order from team owner Rick Hendrick -- and that's "not to wreck your teammate."
But Johnson's teammate Dale Earnhardt Jr. said he is "surprised" that the most recent chain of events appears to be a revelation to a sector of the fan base. Technical information or strategies are discussed during team meetings all the time, and it's not necessarily nefarious.
"It amazes me," Earnhardt said. "People ask all the time whether we share information amongst the (Hendrick) teams. You wouldn't believe how open the books are. I guess people just assume that (No. 48 team crew chief) Chad Knaus is hiding everything in a little folder and that none of us can see what Jimmie's got, but the book is wide open.
"Everything that's happening between the teams, the information is flowing like a damn river. I don't know why that surprises people. People ask me all the time: 'How much information do you share?' People are so surprised what goes on.
"It definitely has a new test when it comes to several different drivers in one team sort of working in one direction. In the past, it's been the guy with the flat tire that needs a caution. Or the guy at Talladega that has lost the draft and is throwing roll bar padding out the window or something like that. We've all done that or thought about doing that. But this is definitely a new twist on things. It's gotten a ton of traction."
Johnson, like most of the competitors, believes that NASCAR needs to do a better job of policing the sport. He knows they can't listen to every radio, every second of the race but the technology is there for the results not to linger five days beyond the checkered flag. And at a time when the sanctioning body is drastically decreasing its officiating department, the timing couldn't be worse.
"We can make a great attempt at (doing a more thorough job) of policing, that's what I continue to mention to the NASCAR brass when I speak to them," Johnson said. "It's certainly top of the mind for them. This is not a position they want to be in. Even through the Chase, our minds are all on things right now with the final race into the Chase, but this stuff could happen come two or three races left into the championship battle -- and I don't want that in our sport.
"Hopefully, we can be aware, make the right adjustments, from NASCAR's standpoint and do a little better job of policing it. Long term, ultimately -- and I know it's a farfetched idea -- we need to make some changes and look at all options. But to try to make these decisions, we have the technology out there. We don't have it in hand yet, but let's find a way to police this stuff live time and try to make decisions in the race. It's no fun when you have to worry about making decisions Monday or Tuesday because it's the racing that should dictate the finish and who is in and out."
Johnson acknowledged that his teammate Gordon, who missed the Chase, "is a perfect example." After Bowyer's spin on Saturday night -- and the subsequent shuffling of positions on pit road -- Gordon went from being in the Chase field to out. Although NASCAR's point penalty involving the Michael Waltrip Racing drivers corrected Ryan Newman's position -- Newman was leading the race at the time of the spin -- Gordon received no relief.
Earnhardt agrees that technology -- and transparency -- is the key to maintaining law in the sport. While spins happen on the race track all the time, when it happens to benefit a driver, usually "it's not news." Although Earnhardt was racing with Bowyer when the spin happened and witnessed the event, he doesn't believe that an admission of guilt is necessary to determine what happened.
"Everybody is like, 'The only way we're going to know is if Clint admits it,'" Earnhardt said. "We have all this data. You can look at how he drove the car through the corner a hundred times and watch his brake and throttle and watch it that lap and see what you think. It wouldn't be that difficult.
"As much as you think you can camouflage this or pull these smoke and mirrors, the media or the fans can connect the dots."
Still, NASCAR's most popular driver made it clear he "definitely" doesn't want to run the sport because he'd hate to be faced with the challenges the sanctioning body has had to make this week. Earnhardt said he hasn't thoroughly reviewed the decision that NASCAR made on Monday, and he has mixed feelings on his teammate Gordon and his friend Martin Truex Jr. watching the Chase from the outside.
"There's a million different things they could have done differently, and I don't know if they did the right thing," Earnhardt said. "You've got to sit back and think about why they made the decisions they made, as far as how the penalties were working out and how the penalties affect certain drivers. You got to sort of see what their logic is on it.
"It's a unique thing. It's a fascinating situation. When I read the fines and penalties and then I looked at the points and was like, 'What the hell?' That's what happened. I need to sit down and really think about why NASCAR chose to do it the way they did it and see what the logic was behind it, and I'm sure it makes a lot of sense."
Although some competitors might take offense at NASCAR adopting a heavy-handed role, Earnhardt would welcome a greater "big brother" attitude from the sanctioning body. He was "glad NASCAR moved in and did something" after Richmond and feels it's necessary to keep a level playing field in the garage. The problem is that officiating is a never-ending job.
"It's important for them to govern," Earnhardt said. "We need them to make themselves known. They need to be the boss. We need to know that they're there. I kind of get frustrated when they say, 'Man, don't let us get involved, don't fool around with these restarts and get us in the middle of this.' I want them in the middle of it. Get in there and do it. We need that. We need them to have that control.
"They do a real good job but leaving it in our hands, man, is probably not very smart because we're going to try and work in the gray area. We're always going to work in the gray area. And NASCAR's job is to go behind us and patch those gray areas up and make them black and white. And then we'll find that next gray area -- and that's just the way it's going to go."