Cincinnati Reds Pitcher Alfredo Simon Slapped With $15 Million Sexual Assault Lawsuit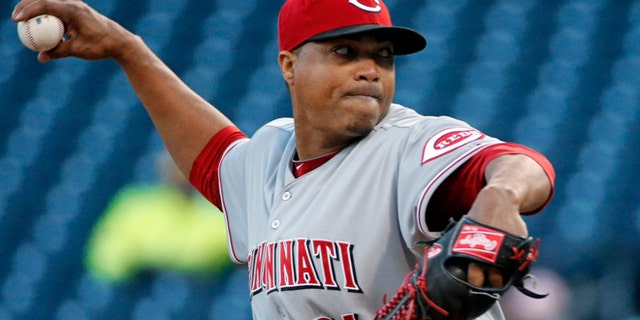 ASSOCIATED PRESS – A woman who said Cincinnati Reds pitcher Alfredo Simon sexually assaulted her in a Washington hotel a year ago when the team was in town to play the Nationals is suing the player for $15 million.
The woman, identified as Jane Doe, filed the civil lawsuit Thursday in D.C. Superior Court. The suit says she met Simon at a nightclub and went with him by cab to the Mayflower Renaissance Hotel where, she claims, he forced sex upon her.
Adam Katz, Simon's agent, said he had no comment when reached by phone Thursday night.
A copy of the suit was obtained by WMAR-TV in Baltimore. The 32-year-old Simon played for the Baltimore Orioles for parts of four seasons from 2008 to 2011 before being claimed off waivers by the Reds.
"This was a very brutal attack," Steve Kelly, one of the woman's lawyers, said Thursday night. "It was very traumatic for her."
The lawsuit says that the night of April 27, 2013, the then 27-year-old woman and friends went to a nightclub and were approached by a man claiming to be Simon's manager.
The man escorted the woman to a table where Simon and another ballplayer were sitting and introduced her, according to the lawsuit.
The woman and Simon left about 2:30 a.m. in a cab and rode to the hotel where the Reds were staying, according to the court document, which also alleges the woman was intoxicated and unable to consent to sex.
The suit alleges that Simon started to kiss the woman, but began to get rough with her, pinning her down on her stomach and grabbing her hair.
Simon forced the woman to have sex with him, the suit alleges.
The woman fled the room, took a cab back to the nightclub and recounted the alleged incident to her roommate, according to the lawsuit.
The woman, who was in pain and bleeding, went to a hospital later that morning for sexual assault exam, the suit says. She reported the attack to D.C. police on May 2.
Police spokesman Hugh Carew said Thursday night that officers forwarded the report to the U.S. Attorney's Office in Washington. William Miller, public information officer for the U.S. Attorney's Office, said in an email that the office "typically does not confirm or deny investigations and does not comment on grand jury proceedings."
Miller also said the office works closely with law enforcers and thoroughly investigates allegations of sexual assault.
An initial scheduling conference for the lawsuit is set for July 25.
Simon was jailed in the Dominican Republic in 2011 on a charge of involuntary manslaughter. He was acquitted.
Follow us on twitter.com/foxnewslatino
Like us at facebook.com/foxnewslatino