Another Fine Pine Tar Mess: Yankees' Michael Piñeda Gets Ejected Over Neck Goo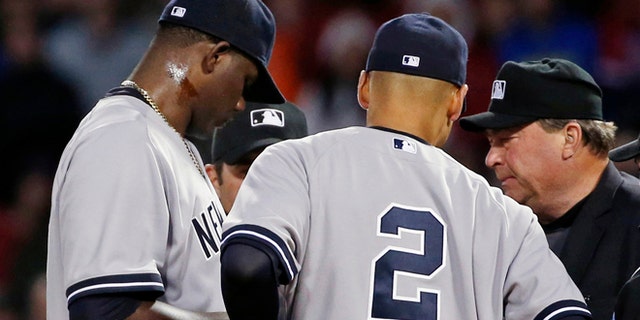 Michael Piñeda sure does love the sticky stuff.
Two weeks after having cameras capture a gooey brown smudge of pine tar on his hand during a game against the Boston Red Sox, the New York Yankees pitcher once again wandered into the pine tar pits.
Facing the Red Sox once again, this time at Fenway Park, Piñeda was having a hard time getting a grip on the ball, so he came out for the second inning with a perfectly obvious rectangle of pine tar smudged on his neck.
"It was a really cold night and in the first inning I (couldn't) feel the ball," Pineda told reporters after the game. "I don't want to like hit anybody, so I decided to use it."
Red Sox manager John Farrell, who had been philosophical about Piñeda's previous dark brown smudge (which the pitcher claimed was dirt, not pine tar), decided that enough was enough.
He complained to umpiring crew chief Gerry Davis, who asked Piñeda what that stuff on his neck was, who answered truthfully.
Then Davis threw Piñeda out of the game. The Red Sox went on to win, 5-1.
"I fully respect that on a cold night, you're trying to get a grip," Farrell told reporters, "but when it's that obvious something has got to be said."
After Piñeda's previous pine-ball peccadillo, a number of former pitchers and managers came out of the woodwork to say that what Piñeda had done wasn't cheating. That all that the pine tar did was help the pitcher maintain a grip on the ball.
Baseball, the argument went, should look the other way in these sorts of instances. But not, apparently, if the pitcher shows no subtlety about it.
After the last incident, Joe Torre, Major League Baseball's vice president of baseball operations, met with Yankee G.M. Brian Cashman to discuss the issue.
Cashman declined to say what Torre had told him, but said that he had discussed the matter with Piñeda.
"There have been enough conversations," Cashman told reporters after the game. "And obviously there will be more now … We as a group are embarrassed that this has taken place. I think Michael is embarrassed. It's just obviously a bad situation, and it clearly forced the opponents' hand to do something that I'm sure they didn't want to do, but they had no choice but to do."
It's likely that Piñeda will be suspended for the infraction as early as Thursday. In recent suspensions of pitchers for using pine tar, Tampa Bay's Joel Peralta was penalized eight games in 2012, the Los Angeles Angels' Brendan Donnelly 10 days in 2005 and St. Louis' Julian Tavarez 10 days in 2004. The suspensions of Donnelly and Tavarez were cut to eight days after they asked the players' association to appeal.
The timing couldn't be worse for the Yankees, who recently lost starting pitcher Ivan Nova to a torn elbow ligament.
The Associated Press contributed to this report.
Follow us on twitter.com/foxnewslatino
Like us at facebook.com/foxnewslatino