Yankees' Michael Piñeda Suspended 10 Games By MLB For Creative Pine Tar Use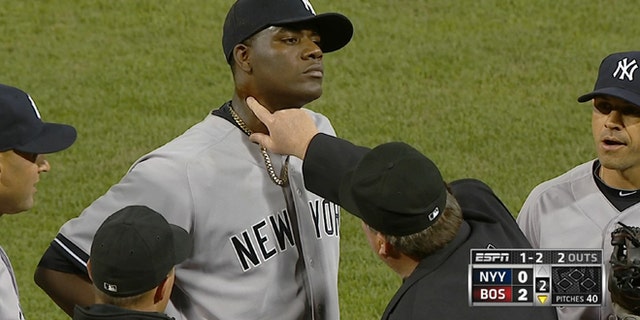 Major League Baseball has suspended the New York Yankees' Michael Piñeda "for 10 games for possessing a foreign substance on his person," according to mlb.com. Unless the pitcher chooses to appeal the decision, his suspension would begin with the Thursday night road game against the Boston Red Sox.
The length of the suspension sounds more onerous than it actually is. Because starting pitchers play once every five games, the Yankees would only have used Piñeda twice in that span anyway. In four starts this season, he has gone 2-2 with a 1.83 ERA.
Two weeks ago, on April 10, Piñeda was spotted pitching with a gooey brown smudge of pine tar on his hand for a few innings during a game at Yankee Stadium against the Boston Red Sox.
Game officials didn't interfere on that occasion because Red Sox manager John Farrell didn't notice the smudge.
Facing the Red Sox once again, this time in Boston, he did it again.
"It was a really cold night and in the first inning I (couldn't) feel the ball," Piñeda told reporters after the game. "I don't want to like hit anybody, so I decided to use it."
He came out for the second inning with a perfectly obvious smudge of pine tar on his neck. This time Farrell complained to the umps and the Dominican pitcher was ejected from the game.
"I apologize to my teammates, and to everybody," Piñeda said afterward. "I'll learn from this mistake. It won't happen again.''
Follow us on twitter.com/foxnewslatino
Like us at facebook.com/foxnewslatino