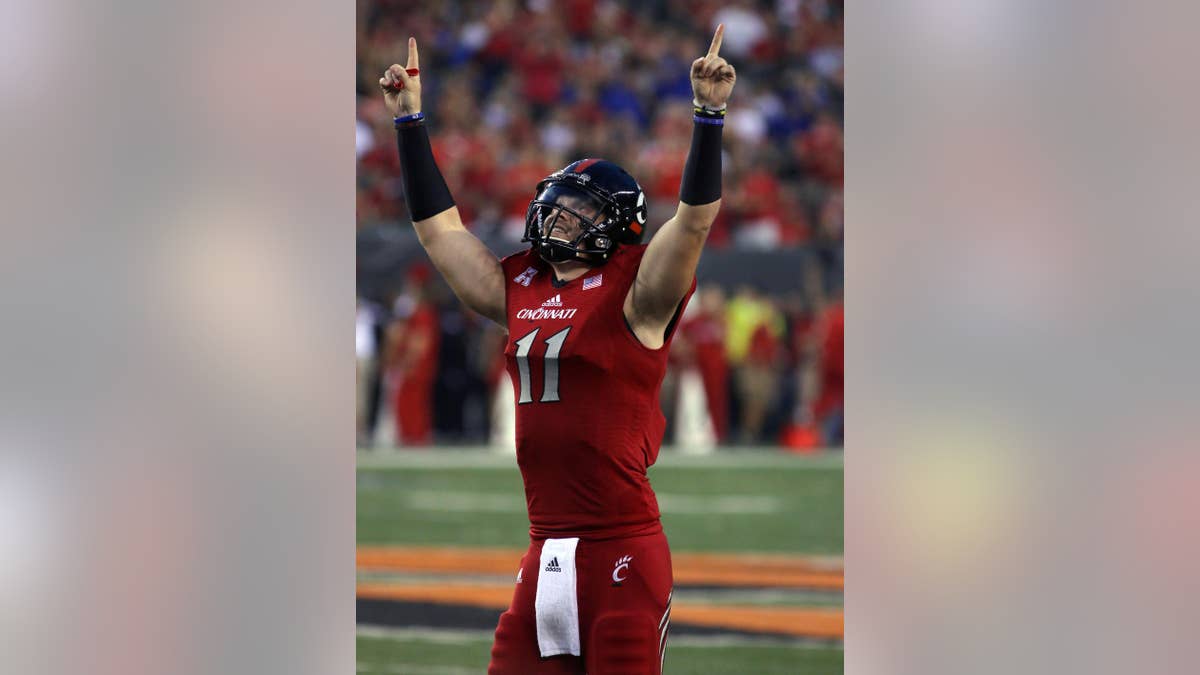 CINCINNATI – These chances don't come around often for the Bearcats.
Cincinnati (2-0) lost a lot of regular opportunities to prove itself against ranked teams when conference realignment stripped the schedule of long-time rivalries. The Bearcats' best chance to gain national attention this season comes on Saturday at No. 22 Ohio State (2-1), a team that it would love to have as a regular rival.
That's not going to happen, so the Bearcats know they need to make the most of this one.
"We've anticipated this day for a while now," said receiver Shaq Washington, who grew up in northern Ohio. "Leading up to this game, a lot of emotions are running high.
"It's a chance for us to go out and show the world what we're capable of. We want to take advantage of it."
A win in Columbus would be a big deal in many ways.
The Buckeyes haven't lost to an in-state school since a 7-6 defeat against Oberlin in 1921. Ohio State hasn't lost in 44 consecutive games against other Ohio teams.
Cincinnati came as close as any to pulling off the big upset. Ohio State came to Paul Brown Stadium unbeaten in 2002 and watched the Bearcats drop two passes in the end zone during the closing minutes of a 23-19 Buckeye win. Ohio State went on to win the national championship.
The Buckeyes were supposed to come back to Cincinnati in 2012, but paid $1 million to buy out the deal and move the game to Columbus. They'll play again in 2019 in Columbus.
"We've been looking forward to it for a while," defensive end Silverberry Mouhon said Tuesday. "It's been on our minds since the summertime when we first heard about it. It's an opportunity for us to show what we can do on that much of a stage.
"At the same time, we're just going to show that we are the best school in the state of Ohio."
The Bearcats have a strong passing game that could take advantage of Ohio State's problems in the secondary. The big question is how Gunner Kiel handles the pressure.
Kiel transferred from Notre Dame, sat out last season and tied the school record with six touchdown passes in his debut, a 58-34 win over Toledo. He threw for four more touchdowns, but was erratic during a 34-21 win over Miami of Ohio last Saturday.
"He needs to quit pressing," coach Tommy Tuberville said Tuesday. "He also needs some help. He got a lot of help the first game. The good passes he threw, we didn't drop any of them. And he threw three last week that should have been caught, one of them for a touchdown."
Kiel acknowledged that he was extremely nervous before his debut at Paul Brown Stadium against Toledo. Tuberville is interested to see how he reacts before the huge crowd in Columbus.
"Hopefully, he doesn't recognize how many people are there," Tuberville said. "Hopefully, all of them don't."
The Bearcats used to have plenty of games against nationally ranked teams — and were often ranked themselves — when they were in the Big East, playing in the Orange Bowl and the Sugar Bowl. They got left behind in conference realignment and lost most of their long-time rivals when they ended up in the American Athletic Conference.
That contributes to making the game at Ohio State a special opportunity.
"It's a measuring stick for us to see where we're at with our speed, our talent and our linemen," Tuberville said. "I'm anxious to see how we match up."
Ohio State tight ends coach Tim Hinton was an assistant at Cincinnati from 2004-09, helping build the program to where it is now. He was with the Bearcats for their 27-6 loss at Ohio State in 2004 and again in 2006 when they fell 37-7.
"Listen, the one thing I know: I stood on that sideline twice with the University of Cincinnati coming against Ohio State," Hinton said. "I know how special it is for those guys to come into the stadium and play us.
"They're going to come in with a lot of enthusiasm. They're going to come in with that little chip on the shoulder: 'We're the other. We're an Ohio team also and we've got something to prove.'"
___
AP Sports Writer Rusty Miller in Columbus contributed to this report.
___
Follow Joe Kay on Twitter: http://twitter.com/apjoekay