Chris Lozano Competes To Honor a Cleveland Legend and His Heritage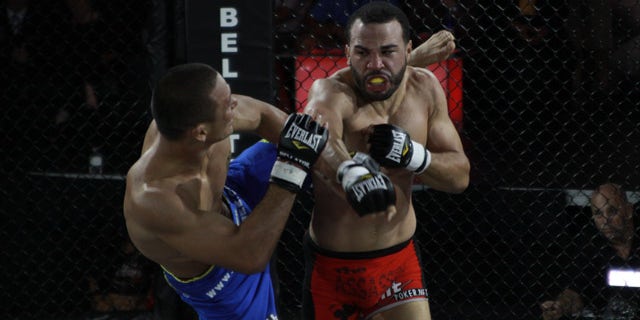 The first time Chris Lozano (9-1) was in a Bellator Fighting Championships tournament with a shot at the welterweight (170 lbs.) championship and $100,000 fight bonus things didn't turn out the way he expected.
"I'm not going to make any excuses about [it]," said Lozano. "I was advised to back out of the fight, but I needed the money."
Before Lozano's fight during Season 4 of Bellator's welterweight tournament (this past March) Lozano suffered an arm injury, from which he spent six weeks trying to recover. To make matters worse his opponent in the quarterfinals was Lyman Good, the former welterweight champion.
Lozano sucked it up and lasted through the three rounds, eventually losing by unanimous decision.
"At first I was so bummed out by everything but after I got to reflect on the fight I think I could have beat him," Lozano said.
Lozano believes that had it not been for a nasty head butt that injured his eye, he may have been able to defeat Good even with his other injury.
Fast forward to September 10 in Atlantic City, NJ, where Bellator kicked off their season with another welterweight tournament with the same rewards. Lozano once again had the opportunity to prove his worth.
This time, Lozano faced Brent Weedman in the quarterfinals of a brand new welterweight tournament, which served as the main event that night.
"I did expect him to be tough, even though he's a bit of a small welterweight," said Lozano. "I knew he was ready and I'm glad it turned out my way."
Opportunities haven't always been there for Lozano, 28, who grew in the west side of Cleveland, where he now makes his home and set up his training camp.
Growing in Cleveland was not easy, particularly because when he was 9 years old, his father killed a man during a fight; he later served 10 years in prison.
"It left my mother on her own with two sons to raise," said Lozano.
Without his father to set a positive example for him, a local hero decided to take Lozano under his wing and be his father figure.
Eddie "The Assassin" Johnson was a linebacker for the Cleveland Browns and lived in the neighborhood where Lozano grew up.
Lozano, a big football fan, went door-to-door looking to meet Johnson; instead he befriended his son, and soon embedded himself with the entire family, including the football star.
"I'm blessed. A lot of kids in my situation, they don't have people around them stepping up," Lozano said.
"He was a great role model," he added, referring to Johnson. "He believed in me and set the right example."
Johnson died in 2003 after a long battle with colon cancer. Lozano honors him by adopting the moniker "The Cleveland Assassin" and using it as his own in Mixed Martial Arts.
"I wanted to walk like him, talk like him," said Lozano. "He didn't have to do what he did."
Lozano, whose father is African-American and whose mother is Puerto Rican, also credits his Latino roots for his love of fighting and his never-say-die attitude.
"We're all fighters at heart," said Lozano. "That's just who we are. Latinos are natural bred warriors.
"To have pride in who you are, and to have pride in your people," he continued. "I learned that from my uncles and my family, my heritage."
On Saturday, Lozano faces Douglas Lima in the semi-finals of the welterweight tournament.
While he thinks he has the advantage, he's still taking his opponent very seriously.
"You're always worried when you go in there. It only takes one punch," said Lozano. "I'm very confident that I can handle Lima."
But has his recent success helped him move past his disappointing loss in last season's tournament?
"I keep it with me because it's part of my motivation and my fuel," he said. "I'm over it but I'll never forget it."
Victor García is an associate producer for Fox News Channel and a regular contributor to FoxNewsLatino.com.
Follow us on twitter.com/foxnewslatino
Like us at facebook.com/foxnewslatino