UFC 133: Tito Ortiz Falls to Rashad Evans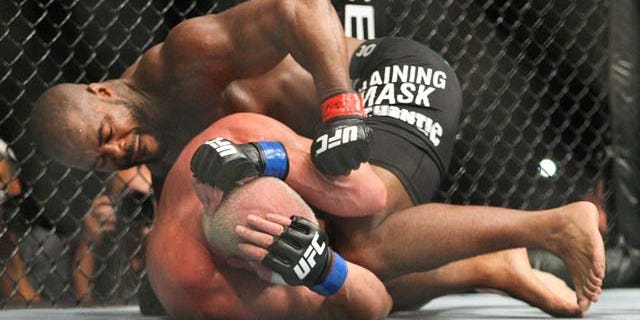 The comeback trail for mixed martial arts legend Tito Ortiz hit another speed bump Saturday night – and its name was Rashad Evans.
Ortiz, 36, was trying to capitalize on the momentum he gained from last month's victory over Ryan Bader. After his first win in six fights, Ortiz had reminded the world why he was still relevant.
Still, many experts thought he would be outgunned by the younger and faster Evans, who is five years his junior. For his part, Evans was trying to prove that he his was still the No. 1 contender after a 14-month layoff due to injuries and, frankly, some questionable decisions on his part.
Both men had something to prove Saturday night and the crowd knew it.
The crowd in Philadelphia was buzzing for the Ultimate Fighting Championship main event, albeit in an odd way. The crowd was clearly "pro Tito" and "anti Evans," but the truth is both got their share of boos from the always-unpredictable Philly crowd.

Ortiz looked focused and ready for war as "Cinderella Man" by Eminem blared throughout the Wells Fargo Center. The music was just another reminder that Ortiz perceives himself as the underdog fighting for his career.

As he marched to the Octagon, one of his trainers shouted words of encouragement to him as he carried, in trademark fashion, his American and Mexican flag. Evans came out to "Victory" by Puff Daddy featuring that late Notorious B.I.G., staring intently at his opponent in the ring.

Both men touched gloves before the fight and exchanged blows and takedowns throughout a competitive first round that Evans clearly won. At one point Evans lifted Ortiz and slammed him to mat. Ortiz's face was red and swelling afterward.
In the second round, the intensity of the fight escalated. Early on, as Evans continued to strike, Ortiz caught him in the very guillotine choke that finished off Bader just weeks earlier.
The crowd erupted.
Ortiz tightened it for what felt like a lifetime before Evans worked his way out of it.
After some more exciting back and forth, including another submission attempt by Ortiz, Evans regained control and delivered a violent knee to the chest, sending his opponent to the mat. After a few more punches to a downed Ortiz, the referee called the match at 4:48 in the second round.
Unlike their first encounter, a draw four years ago, Evans won decidedly with a TKO.

Evans, who hugged Ortiz afterward, was respectful of him but also let the crowd know he was the superior fighter in a cage versus Ortiz.

"Speed kills and I feel that tonight I was fast. Tito was a couple of steps behind. I had to keep the pressure on because Tito is strong," Evans said.

Meanwhile, Ortiz gave his opponent credit and reminded the crowd and his fans that he was still going to be around and gave 100 percent.

"Rashad was the better man. I take my hat off to him," said Ortiz. "I fought my ass off...and I will be back. I took this fight on short notice and gave it my all."
Victor García is an associate producer for Fox News Channel and a regular contributor to FoxNewsLatino.com.
Follow us on twitter.com/foxnewslatino
Like us at facebook.com/foxnewslatino