Carlos Muñoz Looks To Conquer The Indy 500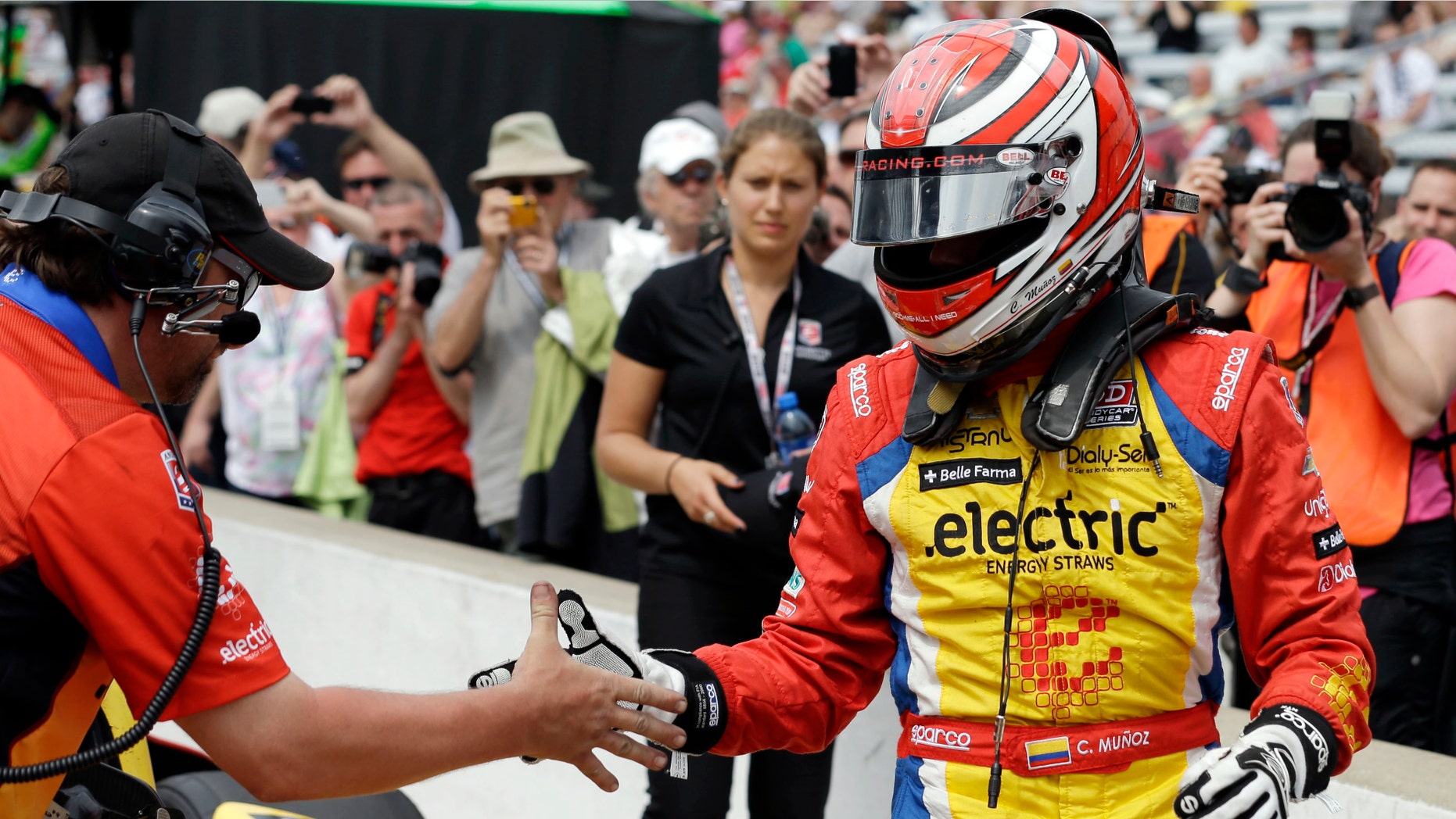 Carlos Muñoz's initiation to Indianapolis went relatively smoothly; Conor Daly's was a little rougher.
Either way, the two 21-year-olds will find themselves on the 2.5-mile oval Sunday, starting their engines for the biggest race in the IndyCar Series.
"It doesn't really matter where you qualify, it's still cool to be here," Daly said Tuesday before the annual rookie luncheon at Indianapolis Motor Speedway.
All four rookies — Muñoz, Daly, AJ Allmendinger and Tristan Vautier — would agree.
But there's almost nothing that compares to starting on the front row as a rookie, which is what Muñoz will do at the 97th running of the 500.
The last rookie driver to start on the front row was another Colombian, Juan Pablo Montoya, who qualified second in 2000 and dominated the race en route to his only Indy win.
Muñoz remembers it well. Back then, he was just a kid watching his childhood racing idol on TV and savoring every precious moment of a memorable victory that sent Colombians pouring into the streets. It was enough to convince Muñoz then that he could one day follow in Montoya's footsteps. He just never dreamed their paths would be so similar.
Like Montoya in 2000, Muñoz came to the historic track with one of the big-name teams in American open-wheel racing. Montoya drove for Chip Ganassi, Muñoz is working for Michael Andretti.
Like Montoya in 2000, Muñoz is the fastest rookie in the field at 228.342 mph.
Like Montoya in 2000, Muñoz will start second, the middle of the front row.
And in Colombia, his ability to find speed certainly has raised expectations.
"Before coming here, my main goal was to the Indy Lights championship," said Muñoz, who has started on the front row of every Lights race. "Right now, I'm the championship leader, so I'm saying I have to win Indy Lights first and I'm not putting any pressure on me to win it (the 500)."
For Muñoz, this May could not have gone any better.
He passed his rookie test on opening day. A little more than 24 hours later, he posted the fastest lap in Indy practice. He spent the rest of the week near the top of the speed charts and when qualifying began Saturday, Muñoz and his four better-known teammates — Marco Andretti, Canada's James Hinchcliffe, defending series champ Ryan Hunter-Reay and Venezuela's E.J. Viso — were all considered front-runners in the battle to win the pole. Somehow, Muñoz wound up the top qualifier of the Andretti five after the nine-car pole shootout.
Daly's month couldn't have gone much worse.
The problems began after Daly missed the first two days of Indy practice so he could race in Spain, then returned to Indy late Sunday only to learn that someone had lost his luggage — a bag that included his protective HANS device. Fortunately, Marco Andretti gave his to Daly so he could pass rookie orientation.
Last Thursday, Daly got into real trouble when he sensed something with the No. 41 car. Suddenly, the car spun coming out of the first turn, sending him into the wall and skidding down the track between turns one and two with the No. 41 car on its side.
It was the only practice crash of the month and it sent A.J. Foyt's team scrambling to rebuild the car in time for qualifying.
The hard knocks still weren't over for Daly, the son of a former Formula One driver, Indy starter and television racing analyst.
On Pole Day, Daly's first lap was clocked at 221.528 mph, then dropped to 214.210 and then came puffs of smoke out of the rear end of his car. Again, Foyt's team was scrambling, this time installing a new engine overnight to give Daly a chance to make the 33-car starting grid on Bump Day. Daly did just that with a four-lap average of 223.582, putting him on the inside of Row 11.
For Daly, that was good enough.
"In the end, I finally got run in qualifying trim Sunday morning and then we decided just to get it in the show and not worry too much about the speed," Daly said. "The crash was a big learning experience for me because I was able to feel how car was on the edge a little bit too far."
Allmendinger, the 31-year-old who drove in NASCAR and Champ Car before coming to Indy, feels a little out of place around these young guys. But he's not complaining. Allmendinger was the highest qualifier from Roger Penske's team. He'll start fifth, the middle of Row 2 after posting an average of 228.099.
"I look at these guys and think 'God, all these rookies they're so young,'" Allmendinger said. "I guess maybe I'll have to rely on youthful experience."
Daly just hopes his luck changes Sunday. And Muñoz hopes nothing changes at all.
"It means a lot, you know," Muñoz said when asked about being mentioned with Montoya. "I think we've had some great days, but I have to do a great job in the race also."
Based on reporting by The Associated Press.
Follow us on twitter.com/foxnewslatino
Like us at facebook.com/foxnewslatino