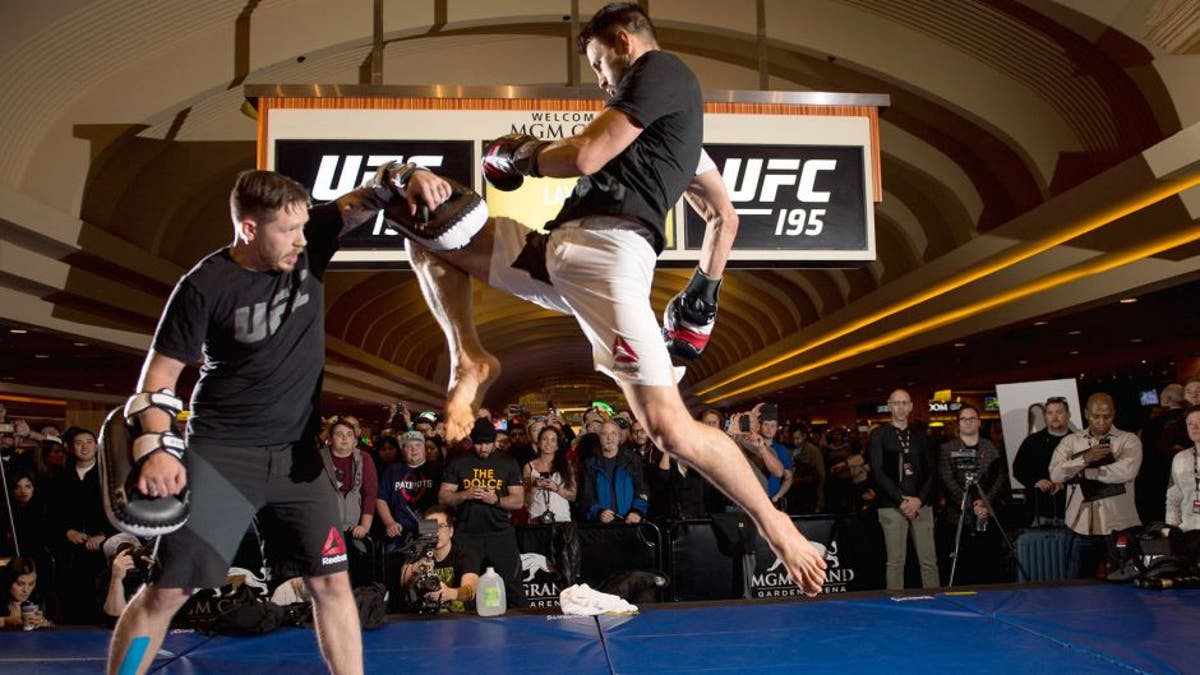 Throughout his entire career with the UFC, Carlos Condit has faced a laundry list of champions, former champions and potential hall of famers but on the eve of his upcoming title fight he believes Robbie Lawler might be the most dangerous opponent of them all.
Condit has been a stalwart at the top of the welterweight rankings for several years and even had a reign as interim champion so facing the best fighters in the division isn't anything new to 'The Natural Born Killer'.
Still, Condit knows that he's about to take on one of the most prolific knockout strikers in the history of the sport on Saturday night at UFC 195 and he's giving Lawler his due as possibly the toughest fight he's faced yet.
"I think that he's definitely, I mean probably the most dangerous guy that I've ever faced," Condit told FOX Sports on the UFC 195 media conference call this past Monday. "He's super skilled but he's also got the power and he's got experience. And he's a smart fighter. So, I'm going to have to be on my 'A' game."
Condit will enter the fight on Saturday as a slight underdog on the betting lines to Lawler as the incumbent champion. It's not a position unfamiliar to Condit, who has been the underdog in several fights in the past but he's never been afraid to defy the odds.
As a matter of fact, Condit enjoys the role of the underdog because it gives him opportunity after opportunity to prove those who don't believe in him wrong.
"I'm just confident in my abilities. I've beaten a lot of guys where I've been the underdog throughout my career. And, I've made a career out of and I've taken a lot of pleasure in proving doubters wrong," Condit said. "And, you do that enough times and you start to believe in your abilities.
"It's not always that way. I go through different phases where there's times of self-doubt, but when the bell rings and it's time to throw down and I get another opponent in my face, I just go to work my best. I fight and usually it turns out well for me."
Condit has been in preparation for Lawler for longer than his normal training camp after the champion suffered a thumb injury that forced him to delay the fight from the originally scheduled date at UFC 193 in November.
Given the time he's had to analyze and break down all the things Lawler does well and possibly even a few holes that still exist in his game, Condit believes he will walk out with the welterweight title on Saturday night.
"Well I'll have to see if my preparation is going to be enough to do that. And I feel very confident that it is," Condit said. "I don't know man, I'm just going to go out there and do my thing. Every night's a different night and anything could happen. And, I like I said, I feel very, very confident."
Condit has never been cocky enough to guarantee victory or make bold proclamations about the way he'll finish his opponents, but he knows Lawler is going to bring out the best of him when they meet in the Octagon.
Condit knows that when it's all said and done, he's going to give Lawler everything he can handle and the real winners will be the people in attendance and the millions watching around the world as he predicts an instant classic when these two welterweight icons finally go to war.
"It's a fight. They're going to lock us in the cage and me and Robbie Lawler are going to try to kill each other," Condit said. "We are two of the most skilled guys in the division, if not the sport, and I think we're going to go in there and put on a display of violence and aggression that people won't soon forget."