Cam Newton joins Panthers' teammates on the field, likely to play Sunday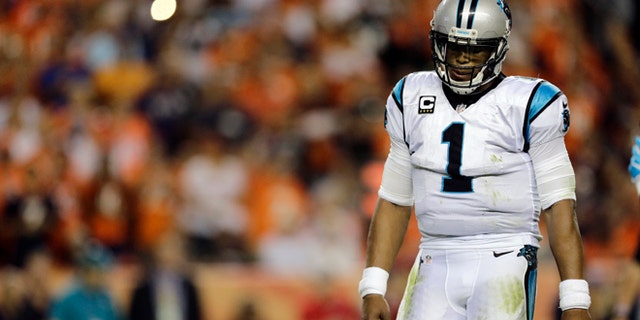 NEWYou can now listen to Fox News articles!
CHARLOTTE, N.C. (AP) – Panthers quarterback Cam Newton was a full participant in practice Thursday, another indicator the league's reigning MVP will likely play Sunday against the New Orleans Saints.
Coach Ron Rivera said that while Newton remains in the NFL's concussion protocol, it's a positive sign that he was able to practice fully. Rivera said he doesn't know when Newton's next meeting with neurologists will be — or when he might be cleared to play.
"This is just the next step and it's all about how he reacts to everything," Rivera said.
Newton declined interview requests on Thursday.
Running back Jonathan Stewart, who has missed the last three games with a hamstring injury, also practiced for the second straight day and said he plans to play against the Saints. Left tackle Michael Oher (concussion), cornerback James Bradberry (toe) and defensive tackles Vernon Butler (ankle) and Paul Soliai (foot) did not practice are Rivera indicated they likely will not play.
Panthers offensive coordinator Mike Shula said he doesn't anticipate putting any restrictions on the quarterback's ability to run during the game if he is cleared to play Sunday.
The 6-foot-5, 245-pound Newton has run for more touchdowns than any QB in NFL history.
"That's his game," Shula said of Newton's ability to run. "We will look at him and talk about it, but part of his game and what makes him so good is that. So if he's cleared, well then..."
Added Rivera: "The quarterback is going to play the game the way he plays the game. That is one thing about Cam Newton. We can call the play and he can drop back and take off and run. So we are going to play our offense accordingly."
Newton missed Monday night's game against the Tampa Bay Buccaneers after suffering a concussion in a loss to the Atlanta Falcons on Oct. 2.
Newton has struggled this season, but playing New Orleans could prove to be a perfect elixir. He has thrown 10 touchdown passes and one interception in his last three games against the Saints.
Some of Newton's teammates have complained in the past about him taking too many illegal hits from defenders and that officials don't treat him the same as other quarterbacks in the league.
Saints coach Sean Payton believes it is tougher to make calls when it comes to Newton.
"There are some quarterbacks in this league that move and scramble and look to run," Payton said. "One of the things Cam has done is, you see him move for a big play still. In other words, he's still looking down the field because he's got that arm strength in any direction to be running and hit a receiver deeper than most quarterbacks. He's got rare talent that way. ... He certainly is a threat as a runner but what keeps you awake at night is what he does on third down and in the red area and in the pocket. His arm strength and arm talent, all those things, those are the things that really keep you concerned."
Panthers middle linebacker Luke Kuechly said it's just good having the excitable Newton back on the field.
"Cam brings a lot of energy and it is fun to have him out there," Kuechly said. "You know when he's out there and when he's not out there."
Like us on Facebook
Follow us on Twitter & Instagram