Tom Brady tells David Ortiz: 'It's not too late to change your mind' on retirement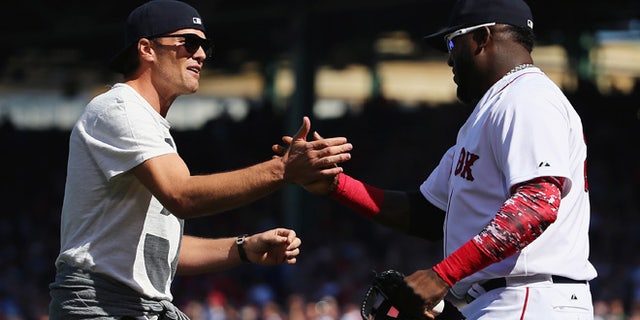 NEWYou can now listen to Fox News articles!
As longtime Red Sox slugger David Ortiz prepares for his final playoff run as a Major League Baseball player, a fellow Boston-area sports legend is hoping it isn't true.
New England Patriots quarterback – and Mr. Gisele Bündchen – Tom Brady posted a message on Facebook on Tuesday wishing the Dominican ballplayer good luck as the Red Sox ready to take on the Cleveland Indians in the American League Divisional Series Thursday night … and hinted that it wouldn't be too late for Ortiz to change his mind about retiring.
"Best of luck in your final playoffs, Papi!" Brady wrote. "I've loved watching you play over the years — no one is better than you when the pressure is on. Hope everyone can join me in sending David Ortiz out the right way by supporting the David Ortiz Children's Fund."
The Super Bowl-winning QB added a pointed postscript: "It's not too late to change your mind, Papi!! Let's talk."
For his part, Ortiz has given no indication that he is thinking of anything but the post-season.
Ortiz had a dream season in his final year — huge numbers, a potential MVP candidate, to go along with a worst-to-first turnaround by the Red Sox. His likeness has been cut into the grass at Fenway Park, his legacy is etched into team history. But what the retiring 40-year-old designated hitter wants most is one more ring — he's won three already with Boston and owns a career .455 batting average and .576 on-base percentage in the World Series.
While Ortiz readies for the playoffs – and impending retirement – Brady is preparing for his first game back on the gridiron Sunday following a four-game suspension for his role in the "deflatgate" scandal.
A federal judge initially overturned the suspension, allowing Brady to play all last season, but an appeals court reinstated it this spring. Prior to training camp in July, Brady announced he would end his challenges and accept the league's punishment.
He is expected to start on Sunday, as the patriots take on the 0-4 Browns in Cleveland.
Like us on Facebook
Follow us on Twitter & Instagram