Cal's Daniel Lasco lights it up at NFL Combine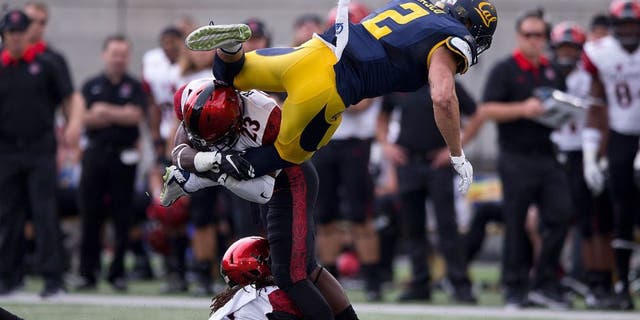 Although nobody could claim a $1 million prize by breaking Chris Johnson's record in the 40-yard dash, another running back looked like a million bucks at the NFL Scouting Combine.
Cal's Daniel Lasco enjoyed one of the best all-around workouts of the 300-plus participants involved. Where he wowed the most was with a broad jump of 11 feet, 3 inches to set a Combine record at that drill for his position.
The 6-foot, 209-pound Lasco said he should have posted a better number were it not for a mistake made on his first attempt.
"I kind of fell forward," Lasco told co-host Phil Savage and I on SiriusXM NFL Radio. "I believe it would have been somewhere around 12 feet. I wish I would have landed that one."
Otherwise, Lasco couldn't have asked for anything more from his Combine performance. Lasco's 41.5-inch vertical jump led the field of 29 running backs and was tied for third-best all-time for the position. He was fleet of foot with a 4.46-second time in the 40-yard dash and the second-best mark (11.31 seconds) in the 60-yard shuttle. Lasco showcased his strength as well with 23 bench-press reps of 225 pounds.
Lasco credits the time he spent with the EXOS performance group in Carlsbad, Calif,. for helping him prepare for the Combine. In fact, Lasco said he was back at the facility training Monday, though there really is no need for him to participate in drills at Cal's upcoming Pro Day after a tour de force Combine.
That performance, though, wouldn't have meant as much if Lasco had failed to produce for the Golden Bears. Fortunately, Lasco's body of work is highlighted by an impressive junior season in 2014. Lasco rushed for 1,115 yards along with 33 receptions that highlighted his pass-catching skills.
Lasco's production plummeted in 2015 as he was maligned by ankle and hip injuries. Yet the biggest question Lasco said he was asked by NFL teams during combine interviews didn't pertain to his durability. It was why he would return for his senior year after such a strong junior campaign.
Lasco said there were two reasons. The first was his desire to complete his undergraduate degree in sociology. The second was to help Cal rebound from a losing season in 2014.
Lasco accomplished both his goals by graduating in December and contributing to Cal finishing 8-5 with a bowl victory.
"There were still some things I needed to get done at Cal," said Lasko, a Houston native who signed with the Golden Bears after a late snub of the University of Miami. "We just had to build a program and I didn't want to leave it shaky. We had a 5-7 season my junior season. It just wasn't good enough for me."
Lasco hopes his Combine performance was good enough to help raise his draft stock. One long-time college scout told FOXSports.com that Lasco is still a likely "Day Three" selection i.e. between rounds four and seven.
Even if that proves true, Lasco will enter the NFL with momentum thanks to a Combine performance that serves as some solace for only being able to play in nine games with three starts in 2015.
"I was injured quite a bit last season. It's football. It happens," Lasco said. "Unfortunately, it hurt me a lot. Now I 'm just trying to build my way back up."
An 11-foot, 3-inch broad jump is a good way to start.