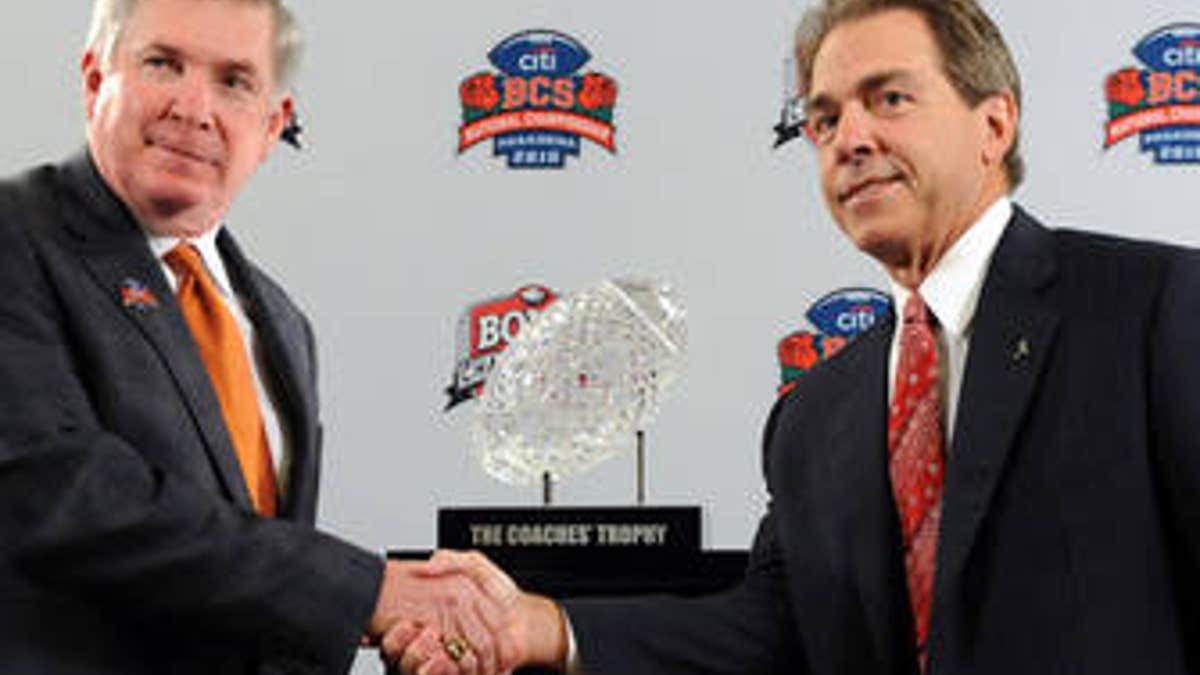 I'd hate to insult anybody's intelligence by stating the obvious, but if you're a college football coach (namely Mack Brown), and your regents are talking, on the record , with The Associated Press, about how maybe you should think about retirement and, oh yeah, we've been talking to someone else . . .
Well that's, uh, probably not a good sign for you.
And, again, don't feel insulted, but this is a calculated move by Texas. Regents don't spill their guts to reporters for no reason. This isn't one of those, "Hey, it's the AP, what's up? Oh, nothing much, just seeing if we can hire Nick Saban." There is no Texas regent today going, "Oh, dagnabbit, how did I let that slip?"
There's an old trick prospective coaches have been using for years. You want a certain job, but that team doesn't seem to have thought about you. So you call a reporter and tell that reporter, off the record, that you're a candidate for it. The reporter writes the story, the team sees it and thinks, "Oh yeah, that guy" and brings you in for an interview, at which point it's up to you. I know of an active college basketball coach who successfully pulled that off and is coaching at the school (no, people who obsess over my bio, it's not Bill Self).
Now, that's a little different from what has happened between Texas and Nick Saban. The Longhorns flirted with him in secret, but the point is, it's not a coincidence that this is coming out now. It's strategy.
Texas (1-2) is so messed up right now and Alabama is so great right now that people would have never even speculated on the possibility Saban might leave Tuscaloosa for Austin if UT hadn't planted the seed. Even when that news broke Thursday, a majority of college football fans just laughed, make a couple jokes and dismissed it. Texas is an easy target at the moment.
And let me be as clear as I can be about something: I think it's unlikely Saban would leave Alabama for Texas. He turns 62 next month, he has won three national championships there since 2009, he makes $5.3 million a year and, if he's not already the best college football coach of all time, he's on his way. I don't think he's leaving. If I were him, I'd stay right where I am. He said yesterday on his coach's show he's too old to start over somewhere else, and I lean toward believing that.
Still: Unlikely as it may be, it's not crazy.
Alabama is a better situation than Texas at the moment, but that's because Saban made it that way. When he arrived in 2007 -- having abruptly left the Miami Dolphins, by the way, a job he accepted only a year after winning a national championship at LSU -- Texas was just two years removed from a national title of its own and building toward another one. In 2009 the Longhorns played in the national championship game and lost it to you know who.
In 2010 and 2011, everybody in America perceived Texas to be the country's most powerful football program. It had the most money, maybe the best recruiting base and probably the strongest brand.
Those conditions all still exist. The only thing that has changed since 2011 is Longhorns have become poorly coached. They often appear confused and lifeless and players do not seem to be getting much better from one year to the next.
But it's not like a new coach would have to "start over." This is not Baylor we're talking about. He'd walk in there on day one and already have the best or second-best roster in his conference, and he'd probably sign a top 10 class that first year. On location alone, he has an advantage over every school in the Big 12, and he doesn't even have to work for it.
There couldn't be a more "just add Saban" job. The guy would win the Big 12 most of the time, which means he'd be in the national title game quite a bit, maybe even matched up against Alabama.
As it was in 2009, it would be a heck of a game. But I know who I'd pick, and it wouldn't be the poor sap trying to beat Nick Saban.
Why would Saban want that? I don't know. But I also don't know why we assume he has some overflowing amount of loyalty to Alabama. At the end of the day, he's a hired gun just like everybody else and he may just take the biggest offer. I don't know, but I've followed sports long enough to know you should never assume a coach would never leave.
That all said, if Texas thought this was likely, it wouldn't be talking to the media about it. This is the onsides kick. I don't expect it to work, but I've seen it work before.
Now, let's hit the links:
- Unfortunately, hazing seems to be a story that won't go away.
- Ex-UConn hoops player Tate George needs another big 'shot.'
- The LA Dodgers' pool celebration ticks off some of the Arizona D-backs.
- What do Nate and Joe Montana have in common ?
- Austin High School's head coach played in the NFL and is getting settled in.
- A Green Bay Packers-themed fence promotes Autism awareness .
- Penn State is looking to borrow $30 million .
- With possibly just nine games left in this career, Mariano Rivera gets another curtain call .
- Former Edmonton Oilers owner Peter Pocklington could be going to jail .