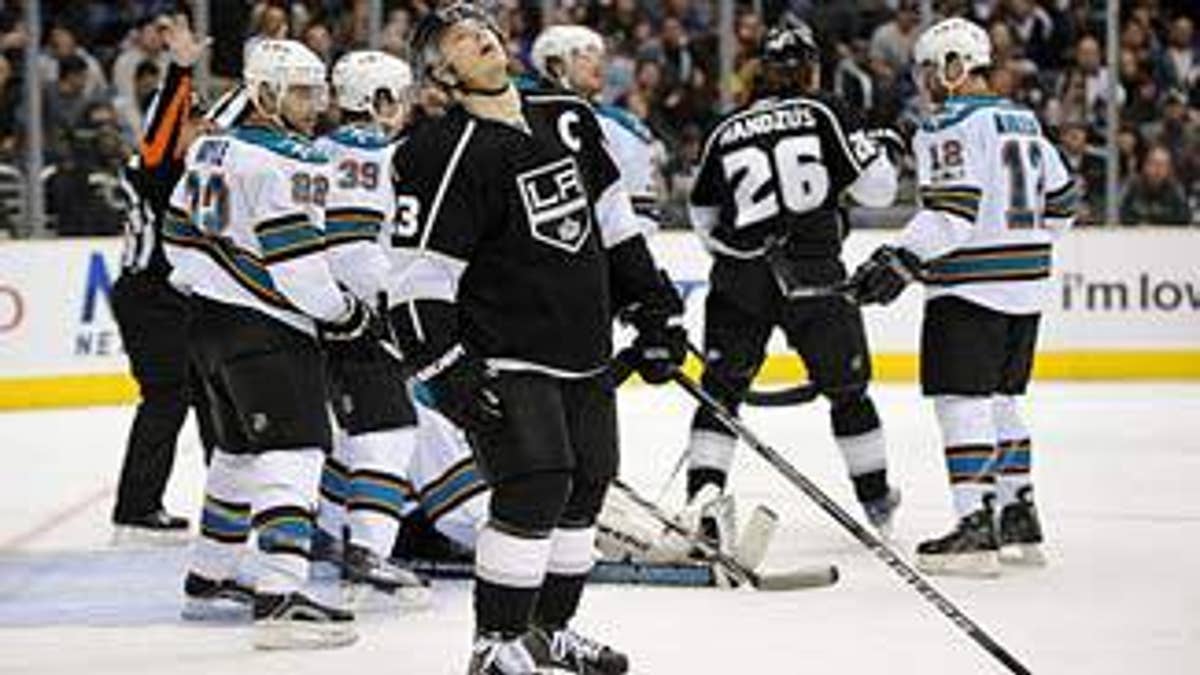 LOS ANGELES – Dustin Brown was initially at a loss for words as he took off his skates for the last time this season.
If the Los Angeles Kings captain is indeed the face of his team, he wore a mask of resignation tinged with confusion Monday night after his team's season ended at the exact same time and place as last year -- at home after a Game 6 loss in the first round of the playoffs.
"Right now it's just disappointing," Brown said. "It's hard to reflect as a whole. It's nothing but disappointment right now. It's just hard to kind of reflect on what happened in this series or how the year went."
But then Brown broke down why his team could not show growth from last season after a six-game series loss to San Jose, punctuated by a 4-3 overtime loss at Staples Center.
"Mental mistakes in our D-zone is probably the No.1 thing for us," Brown said. "Quickie (goalie Jonathan Quick) lets in 12 goals (in Games 3-4), and I don't think one of them a goalie could have really stopped. It's uncharacteristic for this team to let in that many goals at home – or regardless of whether we're at home or on the road – our defensive game was not there in the middle of this series."
A Kings' team based on defensive structure bended and finally broke against a high-powered San Jose squad, which scored 20 goals in six games despite going 2 for 23 with its second-ranked power play.
The Sharks prevailed in three overtime games and won all three games at Staples Center.
That Los Angeles had a golden chance to win Monday with a five-minute power play at the end of regulation and overtime became an afterthought because it was apparent that the Kings didn't have the overall game.
Coach Terry Murray denied it in his postgame media briefing, but multiple Kings players pointed to blowing a 4-0 lead at home in Game 3.
"It's hard to really reflect on all six games right now, but obviously Game 3 stands out," Brown said. "It's 4-0 at home and to not win that game, it's a big part of the series. We've got a pretty good team in here … it's a learning process with the team, but right now it's just disappointing."
Defenseman Jack Johnson said that, in a way, his team shouldn't have made it to Monday after it needed Quick's franchise-record, 51-save performance in Game 5.
"The reason we had a Game 6 was because of Quick," Johnson said. "He stole that game in San Jose. We were fortunate enough to get here."
Los Angeles had big expectations this season after it came off a six-game first round loss to Vancouver, its first playoff appearance since 2002. Their lineup, featuring Quick and Norris Trophy candidate Drew Doughty and a cast of gritty role players, was considered built for a deeper playoff run.
The Kings were in first place in the Western Conference in December and were thought to get the offensive punch they sorely needed with the acquisition of Dustin Penner.
But Penner never really materialized outside of his one goal in Game 5.
The Kings' best line in the series was that of rookie Kyle Clifford, Brad Richardson and Wayne Simmonds, but they were on the ice for three of San Jose's four goals Monday, including the game winner, and were a combined minus-10 for the night.
While it was difficult to take the positive out of Monday, Murray pointed to the franchise moving in the right direction in terms of competing after it went eight years between postseason appearances, from 2002 to 2010.
"I look it as a very good year, a very successful year," Murray said. "We've grown a lot. We've matured. The culture is really pushing along the right away. Losing in six games to me, is disappointing for sure. You'd like to go further. You'd like to manage the puck a little bit better. That probably comes along with experience that was lacking at certain times. We could have pushed that team further."
The next Kings' playoff push beyond the first round will be their first since 2001, and that's what stung afterward.
"It's a disappointing year," Johnson said. "You lose in the first round, you lose Game 6. It's not anything to write home about."