Broncos' Thomas: Peyton Manning's throws still have zip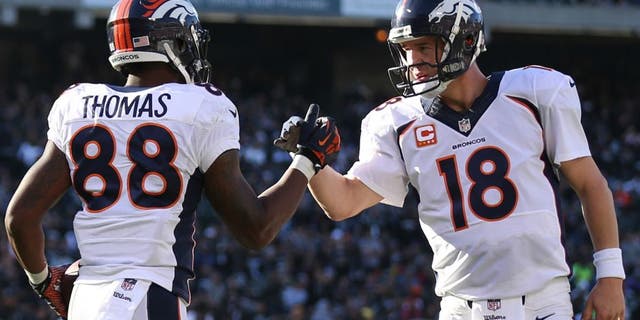 Peyton Manning can still put a little pepper on his footballs.
Just ask Demaryius Thomas. The Broncos receiver has to catch Manning's passes at camp every day.
"I don't know if you all are going to believe what I say, but I think it's a little more zip on it," Thomas told reporters at training camp. "I don't know how he can do that."
Manning has a legendary throwing regimen that keeps his arm lively. He holds a summer passing academy and workouts at Duke University to stay crisp over the summer.
Thomas can feel a difference, though -- and that's a great sign for the 39-year-old signal caller.
"He's an older guy -- one of the oldest guys on the team -- but I feel like every year around this time, there's almost more zip on his ball," Thomas said. "You can notice it. He threw a couple posts, probably 50, 60 yards, and I'm like, 'Whoa.'"
In other words, don't expect "The Sheriff" to drop off anytime soon. He's still packing a cannon.
(h/t ESPN)