Braves' minor league award winners Jenkins, Smith believe they're ready for majors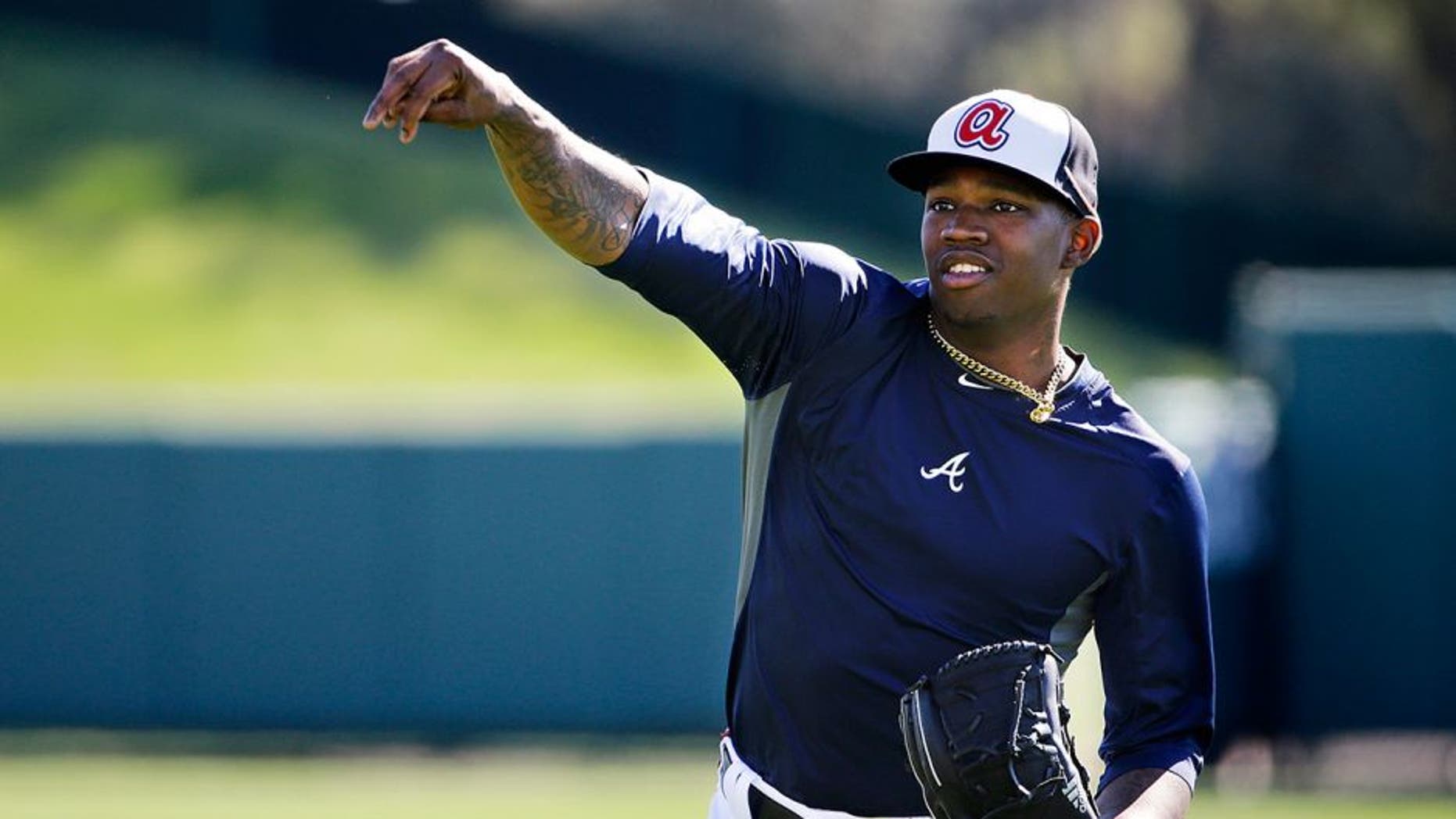 ATLANTA -- When the call came, Tyrell Jenkins admits he immediately was worried he'd done something wrong.
"I thought I was in trouble, for some reason, even though I know I didn't do anything," he said, laughing.
On the other end of the phone was Dave Trembley, the Braves' director of player development to inform the 23-year-old Jenkins that he had been named the organization's Minor League Pitcher of the Year.
As for the Player of the Year, that was the first person Jenkins reached out to, calling outfielder Mallex Smith.
"Did he call you?" Jenkins asked him.
"Yeah," the center fielder replied.
"Bro!" Jenkins said.
"I know, right?" answered Smith.
Amid Atlanta's flurry of deals this past offseason, the focus had been on the future and was played out on the major league stage with 15 players making their MLB debuts this year.
But the moves began with Jenkins and Smith at the center and Saturday, the duo was recognized before the game against the Phillies, along with the rest of the organization's top minor leaguers.
"At first everyone thought (president of baseball operations John Hart) and those guys were crazy, trading away all these big-name guys," Jenkins said. "But that's kind of getting back to where the Braves were, with the pitching depth and having guys in the outfield that can run and go get it."
That's exactly what Jenkins and Smith represent: the depth of the Braves litany of moves.
The duo watched batting practice at Turner Field while wearing dark suits, an experience that Jenkins said "makes me want to be here even more."
Hart's remaking of the farm system -- which ESPN's Keith Law ranks as No. 2 behind the Red Sox -- began with Jenkins, acquired along with Shelby Miller in the November trade that sent Jason Heyward and Jordan Walden to the Cardinals. A month later, the Braves acquired Smith as part of a package from the Padres for Justin Upton.
Jenkins split the year between Double-A Mississippi and Triple-A Gwinnett, going 8-9 with a 3.19 ERA and ranked fifth in the organization with 88 strikeouts. But what he points to as the greatest part of his season was ending strong.
He underwent season-ending surgery to repair the latissimus muscle in his right shoulder in 2013 and after landing on the disabled list in August with arm fatigue, made a point of coming back to throw 1 2/3 scoreless innings Sept. 4 vs. Norfolk.
Smith hit a combined .306 across 126 games with Mississippi and Gwinnett, stealing 57 bases, which was the fifth-highest total of anyone in the minors and led the Double-A (34) and Triple-A (23) levels despite limited time with each team.
He ended the year on a tear, hitting .326 over Gwinnett's last 32 games.
"Mentally I improved a lot just going through my ups and down, getting traded," Smith said. "I had to get over that mental hump ... not necessarily changing, but adjusting to a new organization, adjusting to different rules."
Smith is a fan of current Brave Michael Bourn -- a player whom Smith is often compared to -- from when he was a high schooler in Tallahassee, meeting him made an impression on Smith.
"It's a different feel seeing him up close and personal then getting to see him on TV," he said. "It's a lot more real."
Neither Jenkins nor Smith say they've been told whether they'll be in the running for a spot on the major league roster next spring.
Along with right fielder Nick Markakis, who is under contract until after the 2018 season, the Braves have Michael Bourn, current center fielder Cameron Maybin and left fielder Nick Swisher locked up through '17. But given the lack of steals, with Atlanta's 65 ranking 20th, can he force his way into the mix?
Jenkins will look to work his way into a pitching staff that was the youngest in the majors this season with the likes of Miller (24), Julio Teheran (24), Williams Perez (24), Manny Banuelos (24), Mike Foltynewicz (23) and Matt Wilser (22). Miller and Teheran are givens to have spots, while Banuelos, Foltynewicz, Perez and Wisler also figures to be contenders.
But rated as the fourth (Jenkins) and 13th (Smith) best prospects in the organization, both are clear in their beliefs.
"I'm ready," Jenkins said. "Call me up and we'll get it going."
Echoed Smith: "I would agree, but that's not my decision. I feel like when the time is right we'll come. Until that we'll prepare and get ourselves ready to be here."
Follow Cory McCartney on Twitter @coryjmccartney