Braves' Miller snaps 24-game winless streak in final start of 2015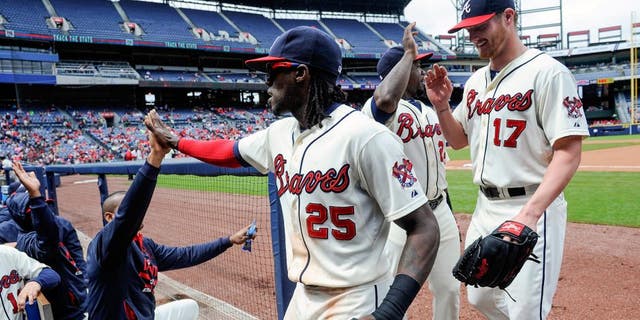 NEWYou can now listen to Fox News articles!
Shelby Miller's long-running Groundhog's Day is officially over.
The Atlanta Braves' All-Star starter snapped his franchise-record 24-game winless streak in his final start of the 2015 season, pitching an eight-inning gem against his former St. Louis Cardinals teammates in a 6-0 win.
The victory marked Miller's first appearance in the win column since May 17 despite posting a competitive 3.83 ERA over that span. The 24-game winless stretch was the longest such streak in the majors since Chris Volstad's 24-game mark over the course of the 2011 and 2012 seasons.
And while Miller took matters into his own hands with his third shutout of the campaign, his offense's emergence was revelatory in its own right.
Miller's surplus of misfortune reached extreme levels of notoriety this season. The 24-year-old became the 2015 poster-child of the "Pitcher Wins Are Pointless" movement as his run support hit extraordinary lows. In 14 different starts this season, Miller left the game without receiving a single run in support. He finished with the sixth-worst run support per nine innings (2.55) since 1975 among ERA qualifiers -- over the course of his 24-game winless stretch, the Braves scored just 25 runs with Miller on the mound.
The statistical rundown of bad luck goes on and on, from unwanted franchise records to historic major-league footnotes.
For a season that kicked off with a 5-1 record and a midseason All-Star nod, things went off the rails in a hurry. Miller entered his final start against his former team carrying a 5-17 record after losing 16 straight decisions.
Relative to this prior experience in Atlanta, Sunday's six-run cushion felt like an offensive onslaught.
It was just the third time in 2015 Miller received at least six runs in support. The other two instances? Wins Nos. 4 and 5 back in May.
The Braves jumped out to a quick 2-0 lead with two soft lines drives from outfielders Nick Markakis and Cameron Maybin. Rookie third baseman Adonis Garcia tacked on a two solo home runs in the middle innings and from there -- barring a warning-track shot off the bat of Cardinals' Brandon Moss in the fourth that would have been a three-run home run -- Miller was in full control.
Miller pitched eight scoreless innings, allowing three hits and three walks while striking out seven.
For the season, Miller logged a 3.02 ERA in 205 innings pitched, It was the best season of his career regardless of the individual record, as he set full-season career highs in innings, wins above replacement and fielding-independent pitching.
Coming off a forgettable sophomore campaign in 2014, the Braves trusted in Miller's arm talent and makeup and received a top-of-the-rotation pitcher in return. With or without his offense's backing, he cemented himself as one of the top young pitchers in baseball over the past five-plus months.
Miller closed the 2014 season on a September high note, allowing just five earned runs in five starts that month, and while he's struggled down the stretch this time around the hope is that this promising final start -- not to mention unloading the burden of this elongated winless streak -- will provide some added confidence moving into an important offseason for the Atlanta franchise.