Braves leadership points to clear areas of need as focus turns to 2016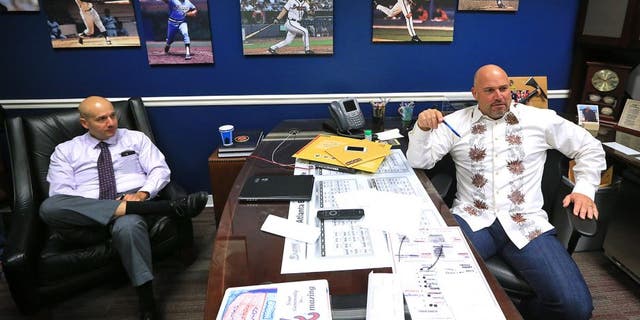 NEWYou can now listen to Fox News articles!
ATLANTA -- Less than 24 hours after their season had come to a close, most of the Braves lockers sat empty. Aside from a few stragglers, most had already packed up their things and scattered until pitchers and catchers report in February.
The franchise's brain trust is ready to move on too.
Part of that group -- manager Fredi Gonzalez, general manager John Coppolella and president of baseball operations -- held court in Gonzalez's office Monday putting to rest Atlanta's 67-95 year, its worst since 1990.
The Braves did end on a positive note, sweeping the National League Central champion Cardinals, a series that Gonzalez said "told us if you pitch, you've got a chance to win games."
But it couldn't make up for a year in which Atlanta, lost 48 of its next 63 games after sitting at 42-42 on July 8.
"I think the free fall that we had for six weeks was really the painful piece of it, when we really collapsed there from late July through the middle of September," said Hart. "That was the tough part that you didn't want to see happen."
The focus going forward is clear as Atlanta seeks to upgrade its bullpen, add to the offense and, with an eye on the health of its potential starters, add to the staff if necessary.
Unlike a year ago, the Braves will try to address those areas with a financial flexibility and depth in the minor leagues it didn't possess 12 months ago.
"We all feel we are in a much better position sitting here this time this year than we were this time last year in spite of the fact that we had 90-plus losses," Hart said. "We are in a much better position."
Atlanta currently has $68.8 million in payroll obligations for 2016 -- a little under $30 million from Opening Day 2015 -- and is no longer on the books for Dan Uggla.
It also has plenty of chips with a farm system that has been rated as second in baseball by ESPN.
"Now we have more options going forward," said Coppolella, who has been on the job less than a week as GM. "That's a word that we always try to talk through and try to get options. We really didn't have options in our farm system, in our payroll. We didn't have options anywhere at this time last year."
The Braves were 29th in the majors with a 4.63 bullpen ERA, but that figure came with some caveats.
Jason Grilli had 24 saves before his season-ending Achilles injury July 11 and had nine saves and a 2.25 ERA before being dealt to the Dodgers in July. Plus, Shae Simmons, figured to be a key piece after a strong 2014, was lost to Tommy John surgery.
The return of Gilli, Simmons and Chris Withrow,who was acquired from the Dodgers in the Juan Uribe/Albert Callaspo deal and is expected back the same ligament surgery, should help. But more than anything, Atlanta is seeking to, have, as Coppolella put it, options.
"We're not getting to get caught where we just didn't have any experience, any depth in that bullpen," Hart said. "That's what happened when Grilli was lost and Johnson was traded. We were in a very difficult situation."
Adding to the offense, primarily, means left field, where the Braves hit just .225 (27th in MLB) and hit just 10 home runs (29th).
While the flurry of deals since last fall bolstered the minors and produced pitchers like Manny Banuelos, Mike Foltynewicz and Matt Wisler, and the organization's pitcher of the year, Tyrell Jekins, it didn't return a surplus of offensive players who can make an immediate impact.
"Because we've made a lot of deals, we know we've got a lot of young pitching in that pipeline that has a chance to continue," Hart said. "What we don't have is the young, upper-level position players. We don't. ... It's an imperfect balance, but there was no other way for us to do this."
Gonzalez, when asked, didn't rule out the possibility that right fielder Nick Markakis -- on the heels of a career-low three homers, albeit after an offseason hampered by rehab from neck surgery -- or Cuban import Hector Olivera -- still new to third base -- could change positions, but it isn't being openly discussed.
While the rotation will continue to be anchored by Julio Teheran (11-8, 4.04 ERA) and Shelby Miller (6-17, 3.02 ERA), there are question marks even with that aforementioned depth with the arms.
Mike Minor hasn't pitched since 2014 due to shoulder surgery, and Banuelos (bone spurs in elbow) and Foletynewicz (blood clots) all have issues that the Braves will be monitoring.
"Do we take a job away from a youngster knowing if we have a better bullpen, is it better for us to let these youngsters go? " Hart said. "They have more upside vs. jumping into the starting pitching market? I think that's something we'll determine as we go through the next few weeks."
The front office staff is getting a week off before meeting in Florida, where they'll set the agenda for these next months and try to put the frustrations of 2015 further behind them.
"You don't just snap your fingers and have it work," Hart said of their long-term plan. "(This year) wasn't without pain."
Follow Cory McCartney on Twitter @coryjmccartney