Blue Jackets' bid for NHL history is over as win streak snapped at 16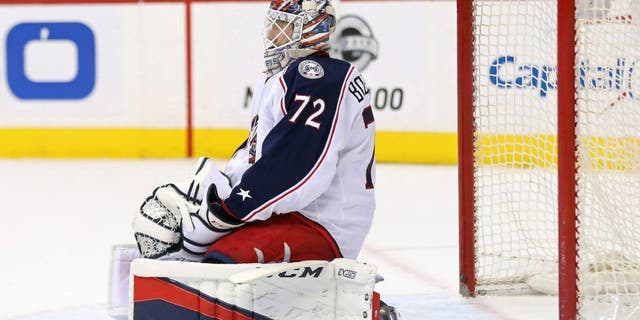 The Columbus Blue Jackets finally lost a game on Thursday night, and it left them on the short end of NHL history.
Heading into Washington with a chance to push their win streak to 17 straight games, a victory would have given Columbus a share of the longest win streak in league history. The only other team to win 17 consecutive games was the 1992-93 Pittsburgh Penguins
But things fell apart for the Blue Jackets against the Capitals on Thursday, and it happened pretty quickly. Columbus hasn't trailed much during the win streak, but Washington got an early lead and didn't relent. Jackets goalie Sergei Bobrovsky gave up five goals on 23 shots -- the first time he's given up that many tallies since opening night on Oct. 13 -- and was pulled for backup Curtis McElhinney.
It wasn't just poor goaltending that did Columbus in, either. The Capitals successfully stifled the Jackets' offense, including their league-best power play, and kept them off the board for the entirety of the game. You're not going to win too many games without scoring a single goal.
Understandably, Jackets players were upset and disappointed about falling short of making NHL history, but their usually-crabby coach, John Tortorella, made sure to let his team know he was proud of them after the game.
"I usually don't go in the room, win or lose," Tortorella said, via Sportsnet. "All year long, I haven't been in there, but I'd be remiss, like I told them, if I didn't. That is one hell of a run by a hockey team. They should feel really good about it."
While the Blue Jackets may not have a piece of league history to show for their incredible run, they do have some very solid consolation prizes. They've established themselves as a legitimate threat in the Eastern Conference this year and could even make a run at the Presidents' Trophy as winningest regular season team. More importantly, though, they've put themselves in excellent position to secure a playoff spot and vie for the Stanley Cup in the spring.
Not too shabby for a team that most expected to among the league's worst heading into the season.