Big Picture: Charlie Strong is living his nightmare at Texas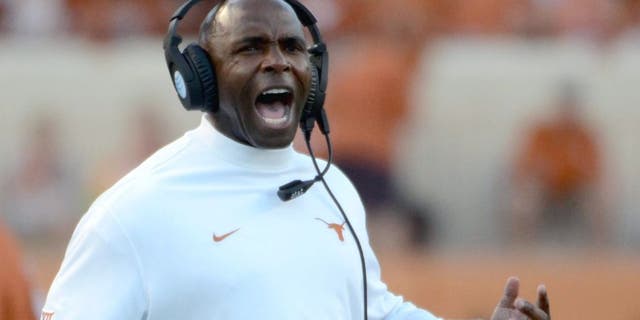 NEWYou can now listen to Fox News articles!
In March, when I visited Charlie Strong, the biggest thing that stuck to me about my afternoon at Texas was how concerned the 55-year-old former defensive coordinator was about just being competitive. Strong is no numbers guy, but he could tell you not once in his four seasons in Louisville did one of his teams lose a game by more than 20 points. In 2014, his debut season at UT, that happened five times.
"The frustrating thing for me is when we lose bad," Strong told me at the time. "I can take losing -- well, I can't take losing at all, but if you hit me on a last-second (game-winning) field goal, I can kinda get over that. But I can't get over a 20-plus points loss in five games."
Strong's team ended the 2014 season in dismal fashion, losing at home to TCU and then in the Texas Bowl to Arkansas by a combined score of 79-17. "We got embarrassed," Strong said. "You're like, 'What's inside of us, guys? Let's stand up and fight because this should never happen here at the University of Texas.'"
Well, it's still happening and even in more jaw-dropping ways. On Saturday, Strong suffered the worst loss in his head coaching career when TCU smashed UT, 50-7 in a game that wasn't even that close. The Horned Frogs led 30-0 before the first quarter was over and had a 221-1 advantage in total yards in the opening 15 minutes. Texas (1-4) is off to its worst start since opening 1-9 59 years ago.
"We don't know how to compete yet," Strong said after the TCU game. "There's something about pride, pride in yourself. It's a very competitive sport. You have to know when things aren't going right, that someone has to step up. That's just not what we're getting right now."
It also doesn't help when a coach has to deal with the stuff that comes with the undertow. Like the bizarre sidebar of Longhorns DB Kris Boyd retweeting an apparent Aggies fan's message to the freshman corner and LB Malik Jefferson to transfer to Texas A&M. Boyd's retweet came during halftime while UT was down 37 to TCU.
Strong was asked about Boyd's retweet after the game. "Our players should never be on their phone at halftime," he replied. "I was not aware of that." Boyd has since apologized.
Strong, though, has more pressing things to be concerned with than Twitter. His defense is allowing over 38 points a game -- two TDs more than it did last year and 26 more than his last defense at Louisville allowed, which was No. 2 in the nation. The Horns have managed just seven sacks in five games (second-to-last in the Big 12.) On offense, only hapless Kansas is scoring fewer points than UT's 24.6-point average and Texas is dead last in total offense at 339 yards per game.
Strong is now 7-11 in a year and a half at Texas. But it's the way they keep losing that has to be eating at him. Seven of his losses have been by 21 points or more. In his second season at Louisville, Strong's team lost six games. However, the Cardinals lost those six by a combined 41 points -- that's two less than the Horns' 43-point defeat to TCU. Strong lost 15 games in four seasons at U of L and only two were by double digits -- by 17 and by 19.
In fairness to Strong, he took over a program that had gone into a tailspin under former coach Mack Brown. Countless recruiting misses and a lack of an edge had torpedoed what had been a perennial powerhouse. Strong also leads a Texas program in a much more competitive environment than Brown dealt with. TCU and Baylor, who were afterthoughts before, are now powerhouses. Texas A&M is a recruiting machine and has facilities that have left UT in the dust.
I expected Strong's teams would've been more competitive than this. I figured he'd get them to six or seven wins in spite of marginal talent and lots of inexperience. At this point, with the way things are going, it's now a stretch to think UT can do better than 4-8. They still have Kansas (at home) and Iowa State (road) remaining. They figure to be favorites in those two. After that, it looks pretty rough. The combined record of the other five opponents is 17-4. Archrival OU, 4-0 and ranked No. 10 in the nation, is up next.
Even if Strong's team ends up 3-9 and the pattern of blowout losses continues the rest of the fall, I'd be surprised if there was a head coaching change in Austin. After all, it's only Year 2 and Strong proved at Louisville he's a capable head coach. Still, recruiting in the face of stormy clouds around a program is never a good thing -- especially when three other Power 5 programs within a couple-hours drive are primed for Top 10 seasons.
RANDOM STUFF
*Hard not to be impressed by what Jim McElwain has done at UF after the way the Gators thumped No. 3 Ole Miss, winning by 28. The 5-0 Gators started six freshmen and sophomores on offense, including QB Will Grier, who went 24 of 29 for 271 yards and four TDs against one of the most athletic defenses in the country. In all UF has 19 freshmen or sophomores listed on its two-deep.
"What I like is he's really learning," McElwain said of Grier. "He's a quick learner. You don't see the same thing show up over and over. He's correcting the errors and is starting to be a little more comfortable in the pocket which is not easy in this league."
When I spoke to McElwain early last week, he'd just started watching Ole Miss film. His reaction: "Whoa, we got issues."
All that youth notwithstanding, those issues clearly were handled. UF led 25-0 at halftime. Next up are back-to-back road games to Mizzou and LSU before hosting UGA on Halloween.
*With all the focus on the Big Ten East, time to give Iowa some respect. The Hawkeyes had a nice 10-6 win in Madison, their first win over a ranked opponent since 2011. Iowa held the Badgers to just 2.5 yards per carry and nothing longer than 11 yards. The Hawkeyes haven't allowed a rushing TD all season. DB Desmond King had 9 tackles and two interceptions giving him five picks for the season. The other guy who has really stepped up on D is Nate Meier, who has five sacks and 6.5 TFLs, already surpassing his six TFLs in all of 2014.
*Apparently, Nick Saban's program isn't crumbling after all. Worth noting the Tide started four freshmen at UGA Saturday, including their most talented WR Calvin Ridley and most gifted DB Minkah Fitzpatrick. My rationale for picking the Tide in this one was that UGA is tailor-made for 'Bama and the Tide is still better in the trenches than the Dawgs. In UGA's first seven drives, 'Bama's D produced six three-and-outs.
*Mizzou is second in the nation with 48 TFLs. The Tigers had six in the win over South Carolina Saturday, including four sacks. Here's the really amazing part about it. They start a true freshman at DT in Terry Beckner, a redshirt freshman in Walter Brady, a sophomore in Charles Harris and a junior in Josh Augusta. The freshmen and sophomores have combined for 20 TFLs and eight sacks. This is like Case 213 of why Mizzou's defensive line coach Craig Kuligowski is as good as there is at what he does.
*Ohio State continues to get all it can handle from unranked opponents and against Indiana, the Buckeyes needed some fantastic play from Ezekiel Elliott to bail them out. OSU just doesn't seem in sync, and has been especially weak in the red zone, where Ohio State is tied for 121st in the country in TD percentage at 37.5. (Last year, OSU was No. 13 at 71.6.) So far Cardale Jones has completed just two passes in 10 attempts in the red zone.
Speaking of the Buckeyes, Braxton Miller, the former two-time Big Ten Offensive Player of the Year, still is struggling to become a key component of this offense. Miller is only 46th in the Big Ten in all-purpose yards with 263 in five games, averaging 8.8 yards per touch. He had 140 of those yards in the Buckeyes' opener at Va. Tech. Since then, he's managed just 123 total yards in four games on 22 touches (5.6 yards per touch) with the longest play going for 16 yards.
*I did sidelines for the Kansas State-Oklahoma State game this weekend. The Wildcats amaze me. At one point they were playing with their FIFTH-Team QB, Kody Cook, a converted wideout who came to KSU as a walk-on. He was replacing Joe Hubener, another KSU walk-on. The team's leading rusher Justin Silmon, is still not on scholarship. Cook was their leader receiver. Their best D-lineman Will Geary also came to Manhattan as a walk-on. In all, they have 50 players on the roster who came in as walk-ons and 13 of those 50 are now on the Wildcats' two-deep with six more on the special teams' two-deep.
I asked Bill Snyder why exactly has he had so much success with walk-ons and he explained that it's in part because he makes no distinction between the scholarship and non-scholarship guys and doesn't even know who on his two-deep is. He said it goes back to his first year in 1989 when he took over a program with under 50 scholarship guys and they had a different locker room for the walk-ons, who got hand-me-downs. He's changed that and it's turned into quite a legacy.
*Nice win for Cincinnati the other night beating Miami, 34-23. The Bearcats were playing without their starting QB, two starting wideouts and their starting running back and still won. Relying on a freshman backup QB (Hayden Moore), the Bearcats are No. 5 in total offense at 587 yards per game. They're also averaging 649 yards in games on the road or at neutral sites.
Eddie Gran, UC's offensive coordinator, will be a hot name this winter especially if the Bearcats keep moving the ball the way it has. For years, the 50-year-old Gran has been known as one of the best recruiters in the country and a really big force in Florida. With potential vacancies at USF and maybe even UCF, his potent offense could be making a good case for him.
*If you didn't get a chance to see our feature on how years of tennis training actually helped hone Josh Rosen's QB skills on FOX over the weekend, you can watch it here. The UCLA freshman isn't the only QB who has benefitted from competitive tennis roots. NFL star Drew Brees also was a youth tennis star and used to compete against Andy Roddick when they were coming up in Texas.
*Texas A&M's bookend DEs continue to pile up monster numbers. Myles Garrett & Daeshon Hall have now combined for 12.5 sacks, 16 TFLs and five forced fumbles in five games.
*Stat of the Day: Four teams in the country are averaging over 600 yards of offense per game. All four are from the state of Texas: 1. Baylor, 745.3; 2. TCU, 630.0; 3. Texas Tech, 602.8; 4. Houston, 602.5. (Last season no team averaged more than Baylor's 582 yards per game.) Then again, three of the four worst are from Texas: 128. SMU; 127. Tulsa; 126. Texas State; 125. Texas Tech.
*Stat of the Day, Take II: UCF is 0-5 and just got blown out by a Tulane team that had been outscored by FBS opponents 102-17 previously. Worse still, the Knights have lost to teams that are a combined 4-10 against other FBS opponents with Stanford accounting for three of those wins.
*Stat of the Day, Take III: This one's from CBS' Jon Solomon: ASU coach Todd Graham is 6-1 in games after 28-plus point losses. Graham's Sun Devils followed up last week's 42-14 loss at home to USC with a 38-23 upset of No. 7 UCLA. Two of the three wins he has in such fashion at ASU have come against ranked opponents.
*Stat of the Day, Take IV: The three remaining unbeatens in the SEC -- Florida, LSU and Texas A&M -- all have new defensive coordinators. Those three also are the league's top three teams in sacks per game, with A&M at 3.80, Florida at 3.60 and LSU at 2.75.
*Stat of the Day, Take V: Nine months to the day after blowing out his knee, Florida LB Antonio Morrison had 16 tackles and 3.5 TFLs to help bottle up the Ole Miss offense.
Bruce Feldman is a senior college football reporter and columnist for FOXSports.com and FS1. He is also a New York Times best-selling author. His new book, "The QB: The Making of Modern Quarterbacks," came out in October 2014. Follow him on Twitter @BruceFeldmanCFB and Facebook.