Barry Zito Throws 4-Hitter, Credits Catcher Sanchez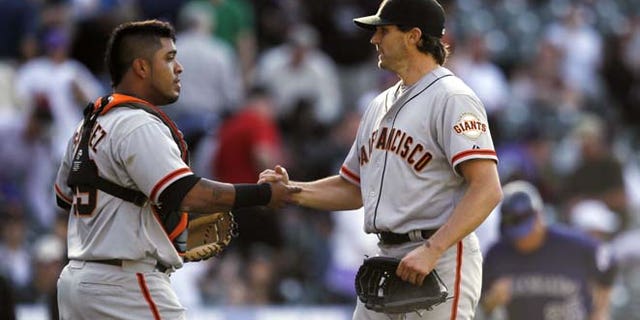 Could Barry Zito be on the road to a comeback?
San Francisco's 33-year-old lefty tweaked his delivery and toyed with the Colorado Rockies, throwing a four-hitter for his first shutout in nine years and Pablo Sandoval hit a two-run homer to lead the Giants to a 7-0 win Monday.
It was San Francisco's first win after losing three one-run games at Arizona, the Giants' first 0-3 start since 1984.
Zito looked a lot like the pitcher who won the 2002 Cy Young award with Oakland and nothing like the one that managed just three wins during an injury-plagued 2011 season.
"I couldn't be happier for Barry," said Giants cleanup hitter Aubrey Huff. "It's no secret he gets buried by the fans, the media and all. To see him go out there and put up a complete-game shutout in Colorado, all the haters out there — that's for them."
Zito (1-0) allowed three harmless singles and a double. He didn't walk a batter and struck out four in tossing his fifth career shutout and first since April 18, 2003, against Texas, and helping the Giants avoid their first 0-4 start since 1950.
"That was just fun to watch," Huff said. "I never wanted to scoop up a ball at the end there for the last out harder in my life for a pitcher. He's been going through some tough times this spring and to come out here and do what he did in Colorado after an 0-3 start, it's just amazing. Just when you think you've seen it all in baseball."
The Latinos Stirring Up the NL West
Zito worked on a new delivery this spring, crouching more to give him a lower center of gravity, bending his front leg more to get lower to the ground. But he had trouble keeping his pitches down in the strike zone, so after two bad outings last week in his final Cactus League starts, he pitched in an extended spring training game to iron out the kinks.
It worked wonders.
"It's been said many times that spring training's overrated," Giants manager Bruce Bochy said.
In command of his cutters, curves and change-ups, Zito set up one hitter after another with 84 mph fastballs that produced 15 pop-outs.
"He got a lot of weak pop flies, kept us off-balance," Todd Helton said. "But we got to put together better at-bats. I think we will. I think nerves were a little involved. So, hopefully next game we'll come out relaxed and swing the bats better."
Zito thanked Bochy for letting him go out for the ninth to complete his 112-pitch masterpiece.
Braves' González Speaks Out for Orlando's Van Gundy
"It was really satisfying," Zito said. "I had a tough spring and made the adjustment I had to make and I think my start in the minor leagues last week had a lot to do with it, just being able to work on stuff without worrying about getting guys out."
Héctor Sánchez called a terrific game that helped keep the Rockies guessing.
"He just has a good feel," Zito said. "He's not scared to go out there and call a pitch that may not be a normal pitch to throw in a certain situation. If things get under pressure out there, he's just always mellow."
Sandoval gave Zito all the support he'd need with a two-run shot over the right field wall in the first inning off Jhoulys Chacín (0-1), and Brandon Crawford hit a bases-clearing double off Matt Reynolds in the fifth.
Chacín, who led the Rockies in wins, ERA, innings and strikeouts last season, gave up four runs, all earned, on four hits and five walks in four shaky innings as the Rockies lost their third straight after an opening day win at Houston.
Chacín walked the bases full in the third and then hung a 2-2 curveball that Héctor Sánchez hit for an RBI single. Angel Pagan drove in another run with a hard groundout to first to make it 4-0.
"Just going to forget this one and go get them next time," Chacin said.
Based on reporting by the Associated Press.
Follow us on twitter.com/foxnewslatino
Like us at facebook.com/foxnewslatino