Arsene Wenger expects Mesut Ozil to shine this season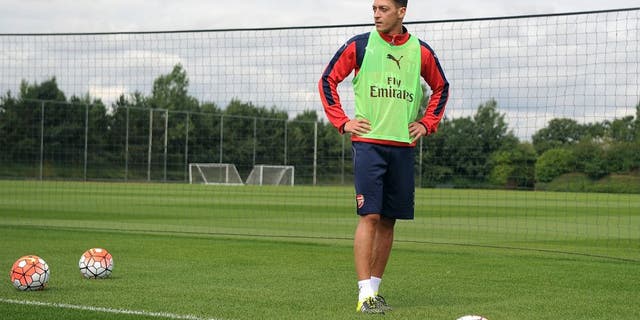 Arsene Wenger has tipped Arsenal's record signing Mesut Ozil to be one of the Premier League's "great players" this season.
Germany's World Cup-winning playmaker is likely to go head-to-head with Chelsea star Eden Hazard in Sunday's Community Shield. Wenger believes Sunday's Wembley clash hands the 26-year-old the perfect chance to set the tone for his third campaign at the Emirates Stadium. Arsenal boss Wenger has called on Ozil to hit 10 goals a season, expecting the former Real Madrid man to rise to the challenge despite registering just four goals and five assists in last year's Premier League.
"What I think is that he shows more authority to dictate the game than before," said Wenger of the $66.4million 2013 signing. He added: "He is physically stronger, that is for sure, more equipped to deal with the Premier League and in the second part of the season last year we have seen that intelligence of his passing. The fact that he added some steel to his game, that was needed, certainly in the Premier League, and I am confident he can be one of the great players of 2015/16. I want more goals from him because he plays in that position and he is a good finisher.
However, the Gunners' manager feels that the German winger needs to capitalize on his opportunities with the ball: "But he does not take enough chances when he is in the position when he can finish. He is conscious of it and he wants to do it now, so I am confident of that. But his main aspect will always be the intelligence of his passing and his creativity. I believe he is in positions where he can finish better and we want from him 10 goals per season."
Wenger insists this summer has been Ozil's first chance for a true pre-season with Arsenal - and the long-serving Gunners boss believes that extended preparation will yield big benefits. And now that Ozil is settled and accustomed to London life, the Arsenal boss has admitted it is time for his big-money recruit to deliver.
"He looks happy: London transforms people," said Wenger. He continued: "I believe that at the start that for people who come from the south they feel a bit shocked because the climate is different and London is a big city. But after a while London slowly gets people under the charm of the city, I have seen that many times. Then they start to really enjoy living in London and the club is a bit the same, Arsenal is similar."
Wenger recollects on past Arsenal players that had to gradually get accustomed to the club and city. "The Premier League is sometimes a shock as well for the players because they think, 'oh, what's happening here?' I remember when (Robert) Pires arrived, the first year I put him next to me at Sunderland and I said, 'you will sit next to me today and watch the game'. After 20 minutes he said, 'is it always like that?' And he adapted.
Finally, the Arsenal coach reiterated the reasons as to why he is confident that Ozil will have a dominant season: "When Ozil signed he joined very late without any preparation with the team, after in 2014 he came back exhausted by the World Cup. He got injured for four months and in the second part of the season he started to really adapt. This is of course the test: it is a very important season for him. But you could see that people have turned in favor of him recently, they start to enjoy his game."