Angela Hill dresses up as 'Street Fighter' character at UFC weigh-in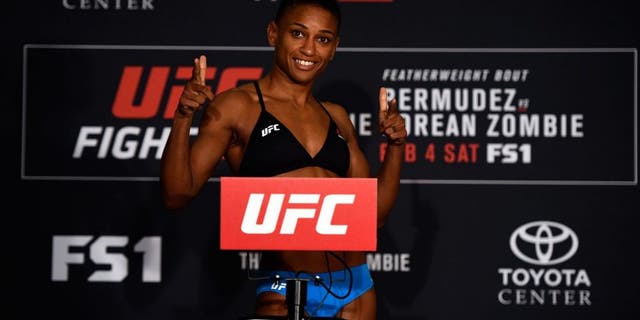 Angela Hill's UFC return got off on the right foot during Friday's weigh-in when she dressed up as one of our favorite childhood video game characters.
In a tribute to "Street Fighter" character Sagat, Hill got her hands wrapped and put on his signature eye patch before her face-off with fifth-ranked strawweight Jessica Andrade on Saturday night.
Dressing up in costume for weigh-ins is nothing new in combat sports, but the UFC's outfitting deal with Reebok severely limits what fighters can and cannot wear to the Octagon.
Hill, fortunately, found a way around the restrictive policy and was able to pull off the iconic look with a simple eye patch and heavy hand wraps. She even went as far as to draw the massive scar the Sagat has on his chest.
Sagat is a legendary character from the "Street Fighter" video game series. He was originally an unplayable boss in the first two games but became a playable character later in the series where gamers could unleash his vicious Muay Thai strikes on the likes of Ryu, Ken and E. Honda.
Hill, who touts a Muay Thai background, hopes to connect on a "Tiger uppercut" or two herself on Saturday night at UFC Houston.