America's soldiers/Olympians rely on foreign forces in Sochi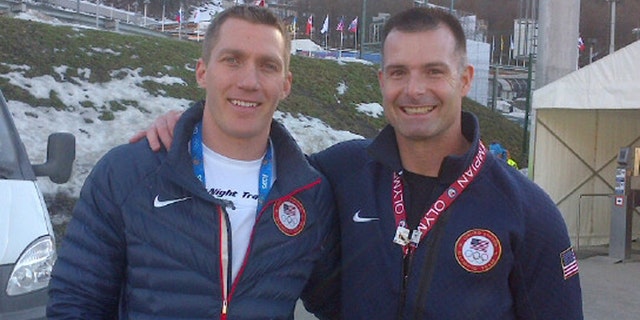 NEWYou can now listen to Fox News articles!
They fight for their country, and now that they're competing for the red, white and blue, soldiers on the U.S. Olympic bobsled team are depending on others to keep them safe.
About half the members of the U.S. Olympic bobsled team serve in the military, battling for gold through the World Class Athlete Program. Now that they're in Sochi for the Winter Games, they find themselves in the unusual situation of depending on foreign police and soldiers to keep them safe while they concentrate on competition. And the security threat is real, as Muslim extremists from Chechnya and Dagestan have vowed to strike within the so-called "ring of steel" established by Russian President Vladimir Putin.
"We all feel safe," Army Capt. Chris Fogt, a military intelligence officer who has served in Iraq, told Fox News. "I am not losing any sleep at night. I sleep soundly. They've done a great job. I have a few friends over here. They don't feel any threat at all."
Fellow Team USA member and Army 1st Lt. Mike Kohn agreed.
"... I think Russia has done an outstanding job of putting in the security measures they need."
"I feel it's gotten a bad rap, unfortunately," Kohn said. "Obviously anything can happen anywhere. You look at the Boston Marathon. But I think Russia has done an outstanding job of putting in the security measures they need."
The pair told Fox News safety, food, transportation and training facilities are all top notch at the sprawling Olympic zone in the South of Russia. Even 50-degree temperatures, normally not ideal for bobsledding, have not posed a problem because their run is in the shade. They had their doubts a year ago when they scouted the area and found "a big pile of mud with a couple concrete slabs."
Fogt and Kohn are not the only Americans impressed with the accommodations in Sochi, despite a spate of negative press. It is difficult to pinpoint the exact number of Americans who made the trek, but CoSport, which procured the tickets for American spectators, says it sold 16,000 tickets. The State Department says as many as 10,000 Americans may be here.
Still, Ed and Karen Crawley, of Cambridge, Mass., said they've seen few of their compatriots. At a recent skating event in which the United States was competing, they spotted just a handful of Americans. Two were family members of athletes, two were missionaries who had been working in Moscow and two were diehard "Olympic junkies."
Ed Crawley, who is temporarily based in Moscow, serving as president of a new university called the Skolkovo Institute of Science and Technology, said he believes fears about security may have dampened turnout.
"I think the American media played up the security issues to the extent that when we talk to people here they say, 'we came, but many of our friends didn't,' or 'everybody told us not to come,'" Crawley said.
Echoed Karen Crawley: "The sad part is that people have been afraid to come. All the work they've done -- it's impressive, to build this place from nothing," she said. "It's kind of sad that people aren't here because they are afraid."
Ed Crawley, who was at the 2002 Olympics in Salt Lake City, which happened just months after the 9/11 terror attacks, pointed out Sochi wasn't the first games to occur in an edgy environment.
"George Bush opened the games in February 2002," he recalled. "It was the tightest security I have encountered in my life outside the White House."
Security concerns have not hurt overall ticket sales, according to Olympic organizers. As of mid-week, nearly a million tickets had been sold, some 70 percent to Russians. Aleksandra Kosterina of the Sochi 2014 committee answered questions about using volunteers to fill seats by saying it's all part of a motivation program for Sochi's 25,000 volunteers.
Ed Crawley said the Cold War hangover is still palpable in Sochi, and could be reduced greatly by better contacts between Americans and Russians.
"In part," he said, about his work at the university he founded in Moscow, "that is why I am here, to help establish a science and economic connection between the two countries."