All-Star Game: SB 1070 Protests Bring Tension to Midsummer Classic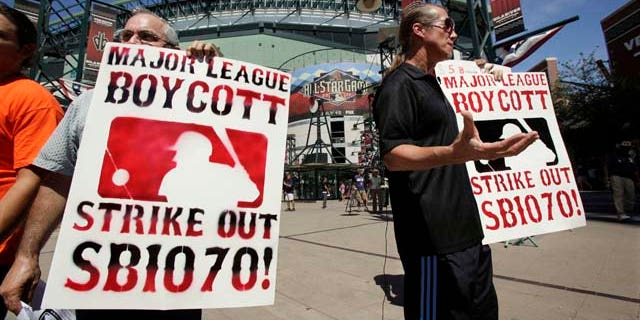 PHOENIX – Major League Baseball's All-Star Week in this city hasn't gone without a few small protests against the state's controversial immigration law – and an even bigger demonstration appears imminent.
Because the most controversial and hot-button sections of the infamous SB 1070 haven't been enforced – tied up in the U.S. court system on a course for the Supreme Court, it seems – there was some public sentiment that little, if any, mass action would be taken during All-Star Week activities to speak out against the law.
But the past weekend didn't go by without action, and come Tuesday around 3:00 p.m. local time, hundreds are expected to march to Chase Field, site of the annual Midsummer Classic, in protest of the law.
Those who oppose the law want to keep the issue in the public eye and call attention to federal immigration policy reform. They believe the law, if allowed to be enforced in full, separates families and, according to one leaflet distributed over the weekend, "does not represent the heritage or diversity Arizonans are proud of."
Those charged with maintaining security at All-Star events, which conclude with Tuesday's game between National League and American League stars, say they'll be ready both inside and outside of Chase Field.
"We're well aware of it," Phoenix Police acting chief Joseph Yahner said recently. "We're going to have officers in the crowd, not only in a uniformed capacity but also in a plain-clothes capacity. We're very fortunate living here.
"If you've seen some of the protests, we do them well, we've done them before, and we'll handle them in the same manner," he added. "We'll ensure that everybody has their rights protected and we'll ensure the safety and the security of the community."
There have been a number of SB 1070 protests since its passage, including at Arizona Diamondbacks games, which became flashpoints after reports of Diamondbacks owner Ken Kendrick's financial support of Republicans who supported the bill.
When the bill was signed into law by Gov. Jan Brewer last April, the boycotts of Arizona began, and a call by activists to boycott the All-Star Game was put forth.
Players were asked to weigh in on the controversy, especially those of Mexican heritage. Milwaukee Brewers pitcher Yovani Gallardo and Kansas City Royals pitcher Joakim Soria were outspoken.
Gallardo initially said he'd boycott before backing off the statement, and Soria and Adrian González, then of the San Diego Padres, said they'd skip the game if chosen.
Gallardo and Soria were not named to 2011 game.
González, however, a San Diego native who spent much of his youth across the border in Tijuana, is now with the Boston Red Sox and is representing the AL in Tuesday's game after taking part in the Home Run Derby Monday night. He said he's relieved that the law is not as big an issue as it was at this time last year.
"It's great. We're here for baseball. We're here to represent our team, Major League Baseball and the players. Our focus should be on that," he said.
González explained his comments from last year.
"It was all out of context last year. I was asked when I really didn't know what was going on. I was in California. I wasn't informed about the stuff going on in Arizona. I hadn't even seen the law," he said. "Somebody came up and said 'This law is passed, what do you think?' I gave my answers and it was like 'Whoa, what happened?'"
The All-Star players are trying to stay out of the fray, but they are aware of the law and its potential impact.
Toronto Blue Jays pitcher Ricky Romero, of Mexican descent from East Los Angeles, says he's not thinking about anything more than playing ball, but added in an interview in Spanish that he'd like other Americans to know that Mexicans are hard workers and only want a better life for their families.
Said Los Angeles Dodgers outfielder Andre Ethier, a Phoenix native with Mexican roots: "I haven't even sat back and thought about that yet. Obviously there's people upset with some stuff. It's unfortunate, I guess, where both sides can't be sat down and this figured out. But it's a thing where this game's going to go on, some people aren't going to like it and do that. But we're just going to go out and do what we can right now, and that's play."
Last Saturday outside of FanFest, MLB's interactive indoor theme park for fans and families inside the Phoenix Convention Center downtown, some volunteers stood on a corner and handed out leaflets with white ribbons attached to them.
Those planning the march and those handing out white ribbons are separate campaigns, but the message to MLB from the white ribbon activists is loud and clear.
"Major League Baseball makes an effort to showcase the (annual) Civil Rights Game," said Leticia de la Vara of UniteAZ, whose volunteers have been handing out ribbons and have reached out to the MLB Players Association to encourage players to wear them. "But Commissioner Bud Selig hasn't made a statement (about SB 1070).
"They (MLB) stepped up in civil rights issues in the past," she added. "It's not typical for them to shy away. We're asking him to make a statement."
The ribbons were for fans to wear in opposition to the state's elected officials who passed such laws as SB 1070, which opponents say oppresses communities and does not respect civil rights.
Activist Margarito Blancas was among those handing out ribbons before the Home Run Derby, and he pledged to do so again with others near the stadium before the All-Star Game.
That's fine with Diamondbacks president Derrick Hall.
"We really sent the message because we believe it. We shouldn't mix politics and baseball," Hall said. "The focus should really be on the game and all the benefits of having the All-Star Game here."
Looking at the packed house at Chase Field for the Home Run Derby, it seems little has deterred fans from boycotting the big events. Tuesday's anticipated protest march, however, will be about a boycott of the game, while others are using a milder approach to raise awareness of opposition to the law.
And immigrants rights demonstrators won't have to worry about a show from firebrand conservative county sheriff Joe Arpaio, who according to local reports backed off his plan to bring in a chain gang of undocumented immigrants (and other) inmates downtown Tuesday to pick up trash during the game.
"What's important to us is to make sure everyone is comfortable and safe outside, which will definitely be the case," Hall said. "Making sure we have enough water out there to keep everybody hydrated, opening gates in time to get people in early.
"They (protests) have never been an issue," Hall added. "It's not something that anybody's worried about or focused on. If they happen, they'll be handled and controlled as they always have."
José M. Romero, a freelance writer for the Associated Press, FoxSportsArizona.com and several other sports web sites, has covered Major League Baseball, the NFL and Major League Soccer. He is based in Phoenix, Ariz. Follow him on Twitter: @mividadeportiva.
Follow us on twitter.com/foxnewslatino
Like us at facebook.com/foxnewslatino