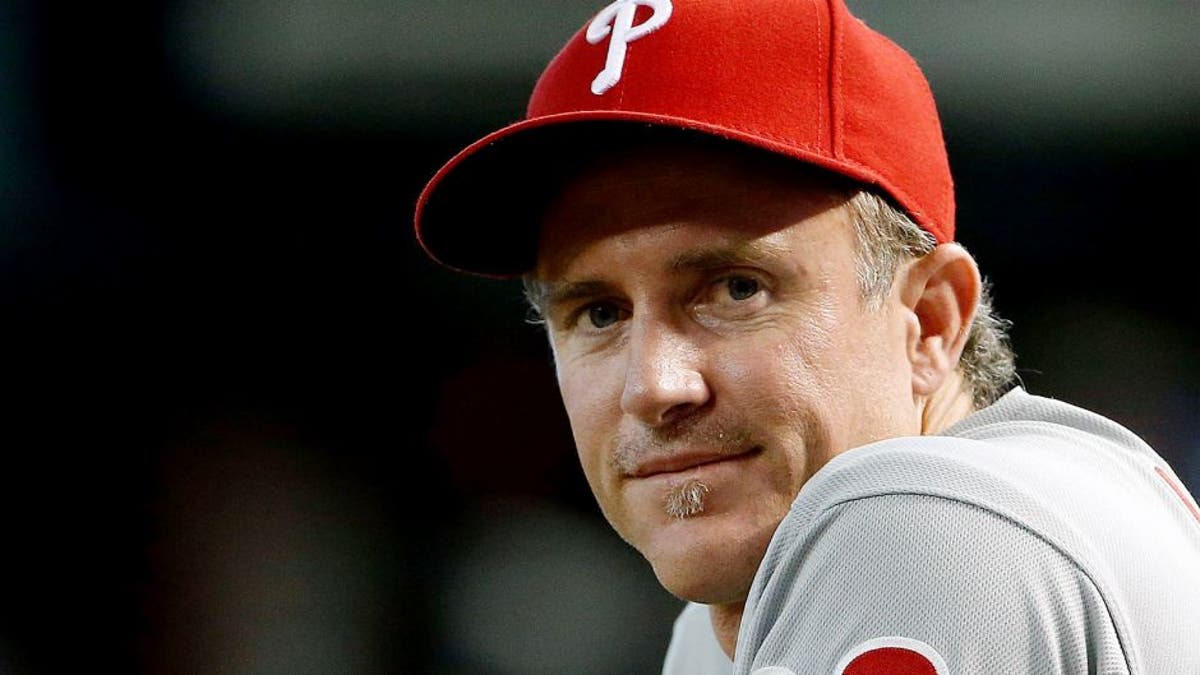 Could Chase Utley simply stay put?
Utley, who holds full no-trade rights, wants to join a contender on the West Coast and preferably in his native Southern California, according to two executives involved in the discussions.
The right fit, however, might not emerge, given the complexities of satisfying Utley, the Phillies and the acquiring club in a trade, and the financial issues that must be resolved.
Utley, 36, is 13-for-26 with six extra-base hits since returning from an ankle injury. He was not in the lineup Sunday, and the deadline for teams to set their postseason rosters is two weeks from Monday.
While a trade still appears logical, Utley never has asked for a deal and would leave the Phillies only reluctantly, sources say. He signed an extension in Aug. 2013 believing that he would remain with the club for the rest of his career.
On the other hand, Utley wants to play in 2016. He likely will become a free agent at the end of the season; it is doubtful that a team will exercise his club option, which likely will be worth $11 million. Joining a contender could enhance his value.
Still, there are complications.
Teams value Utley's left-handed bat, veteran presence and old-school mentality, sources say, but are reluctant to pay a significant acquisition cost for a seven-week rental who still is owed more than $6 million, including a $2 million buyout.
The Phillies, in turn, might be reluctant to part with Utley - one of the best and most popular players in club history -- for a meager package. The team, however, could include cash to improve the quality of the return, as it has done in other deals.
The Phils also could pressure Utley into accepting a trade by telling him they would reduce his playing time for the rest of the season. But interim manager Pete Mackanin is on record as saying that Utley would play at least four times a week, and it seems unlikely that club officials would engage in a public dispute with a franchise icon.
Meanwhile, trade discussions continue.
The Angels thought they had a deal with the Phillies for Utley on Friday, reported MLB.com's Alden Gonzalez. But sources suggested on Saturday that the Angels were pessimistic about their chances of landing the second baseman, with one going so far as to say they were "out."
Such proclamations are dangerous, given the fluid nature of trade talks. If anything, the Angels' need for Utley -- who could serve at first base and DH as well as second -- has only increased in recent days, with the team's lead in the race for the second wild card down to a half-game.
Still, Utley's options might be limited if the Angels and Phillies cannot reach agreement -- or if he prefers to stay in the National League.
The Dodgers currently are without second baseman Howie Kendrick, who is on the disabled list with a strained left hamstring. But Kendrick, in the best-case scenario, could return in two weeks. Even if he does not, the Dodgers simply might stick with Kike Hernandez, who has an .875 OPS in 161 plate appearances and is 7-for-13 with a home run while starting at second the past three games.
Playing time could end up just as limited with the Giants, who are awaiting the return of second baseman Joe Panik from lower back inflammation. The Giants want Utley perhaps more than any club, sources say. But Panik is expected to resume baseball activities next week and could return around Sept. 1.
The Cubs remain in the mix for Utley -- they attempted to trade for him in July when he was still on the disabled list, sources say. But they apparently are not Utley's first choice, and club officials might not want to disrupt a team that has won 15 of its past 16 games. Chris Coghlan -- who, like Utley, is a left-handed hitter -- currently is getting the majority of playing time at second base, and his OPS against right-handed pitching is .800.
The Yankees, who rank last in the majors in OPS at second base, could offer Utley the most playing time of any club. But if Utley truly prefers to go west, he might not consider an East-Coast option.
Utley grew up in Long Beach, Calif., and attended UCLA. His offseason home is in the Bay Area, in Sausalito, Calif.