5-year-old leukemia patient scores touchdown on Baltimore Ravens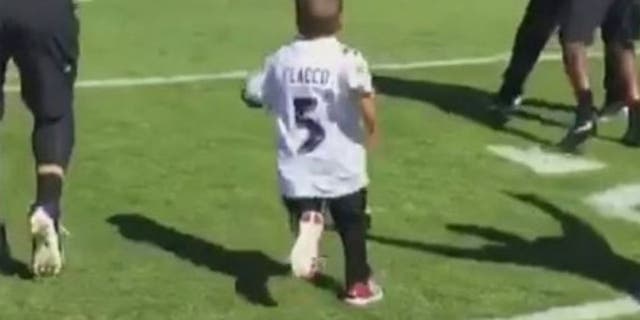 The Baltimore Ravens spent the week getting ready for their crucial game vs. the New York Giants on Sunday at MetLife Stadium.
On Friday, before departing for the Meadowlands, the Ravens brought in a special scout team player to assist the team with their final preparations -- 5-year-old Jack Kirkbride. Per Ryan Mink at BaltimoreRavens.com: Kirkbride, a huge Joe Flacco fan, suffers from a rare form of leukemia and is currently being treated at John's Hopkins Hospital.
Before the Ravens left the field for the day -- Kirkbride was assigned running back duties during the final play.
A glorious moment ensued:
Shortly after:
After scoring, Jack broke the team huddle with a "Go Joe!" call.
"That puts things in perspective quite nicely," smiling Head Coach John Harbaugh said.
Well done, Jack!