5 reasons Joey Logano will win the Chase for the Sprint Cup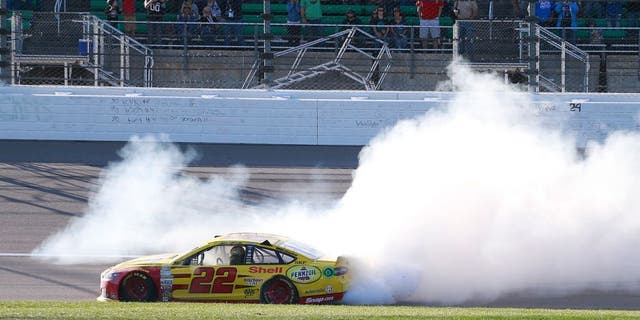 A winner of back-to-back races and the only one among 12 title contenders with his ticket already punched to the Chase Eliminator Round, Joey Logano is in an enviable position.

While his 11 fellow Chase contenders are all on edge heading into Sunday's Contender Round elimination race at Talladega, the Team Penske driver has nothing to sweat.

If he wins, great for him. If he finishes last, it has absolutely no bearing on his championship aspirations.

With his place in the Eliminator 8 already assured, here are five reasons why Logano will keep his momentum going and ultimately prevail as the 2015 NASCAR Sprint Cup Series champion.

5. No stage fright: Having won this year's Daytona 500 and been part of last year's Championship 4, Logano is well-acquainted with the big stage. If Logano gets back to Homestead for the one-race, winner-take-all finale --€" and there's a good chance he will --€" don't think for a minute that he'll let the pressure get to him. No, if anything, he'll thrive on it.

4. His crew won't let history repeat itself: Remember the 2014 championship race when Logano's pit crew completed imploded in the final laps, making multiple mistakes that ultimately cost their driver a shot at the championship? Well, you can believe the Todd Gordon-led bunch has learned from last year's debacle and will take every possible measure to avoid another one.

3. He's fast everywhere: This season, Logano has won at a short track (Bristol), a restrictor-plate track (Daytona), a road course (Watkins Glen) and two mile-and-a-half tracks (Charlotte and Kansas). What does this mean? He and his No. 22 team have no glaring weakness, which certainly boosts their chances of running the table down the season's final stretch.

2. He drives for "The Captain": There's not a team owner in the Sprint Cup Series garage who wields more power and credibility and who has achieved more success in the world of organized motorsports than Logano's boss, team owner Roger Penske, aka "The Captain." Since going to work for Penske in 2013, Logano has flourished both personally and professionally. That's because Penske almost always brings out the best in people, and Logano has been no exception.

1. He's not intimated: Don't be misled by Logano's familiar wide smile and fun-loving demeanor that simply won't go away. When it gets right down to it, the 25-year-old from Middletown, Connecticut is as tough as nails -- both inside the car and outside the car. Logano reminded everyone of this again last Sunday at Kansas when he knocked veteran Matt Kenseth out of the way while racing for the lead in the final laps, and was later unapologetic about the contact that left Kenseth seething.