$26K watches handed out to FIFA executives regifted to Brazilian soccer charity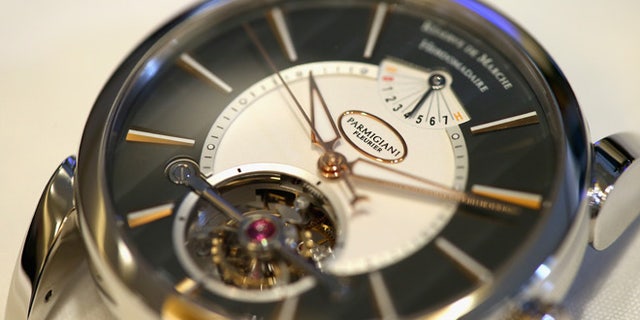 GENEVA (AP) – FIFA's unethical weakness for luxury watches earned a windfall for a soccer charity working in Brazil.
A total of 48 Swiss watches given to soccer officials at the 2014 World Cup have been recovered and donated to a non-profit organization, the FIFA ethics committee said on Thursday.
The Parmigiani watches — valued at more than $26,000 each — were handed out in São Paulo to members of FIFA's often-discredited executive committee, presidents of national federations whose teams played at the 32-team tournament and officials from South American federations.
Michel D'Hooghe, the longest-serving FIFA executive committee member, told The Associated Press on Thursday the watch he got had been a "poisonous gift."
The gifts were from the Confederation of Brazilian Football, whose then-president Jose Maria Marin has been indicted by the U.S. Department of Justice in a widening bribery case which has rocked FIFA and helped force President Sepp Blatter from office.
Marin, who was extradited to the U.S. from Switzerland this month and is under electronic surveillance at his Manhattan apartment, oversaw the gifts in clear breach of FIFA's Code of Ethics. It allows only for gifts of "symbolic or trivial value."
Still, gifting luxury watches has long been a tradition for FIFA officials and all who took the presents — or did not report them — risked sanctions under the code which was made stricter in 2012.
After ruling they were unauthorized gifts, FIFA ethics prosecutors decided against opening cases against officials who received a watch on the condition that they returned it.
"After contacting all potential recipients, 48 watches were returned to the investigatory chamber of the Ethics Committee," the FIFA ethics committee said in a statement.
A total of nine watches could not be returned, with six officials or federations saying they never had it in their possession, committee spokesman Andreas Bantel told The Associated Press in a telephone interview.
One watch is still with an official who was arrested in Zurich on May 27 by Swiss federal police acting on a request by American prosecutors.
"He wanted to give it back but before he was able to, he was arrested," Bantel said, declining to identify the man.
The CBF initially said 65 watches were distributed but the ethics investigation traced 57.
"We were very thorough in following up on this matter," Bantel said.
FIFA earlier said the CBF obtained watches from its sponsor Parmigiani for $8,750 each. But an appraisal found they had a market value of 25,000 Swiss francs ($26,600).
A spokesman for the CBF, Fernando Torres, declined to comment on its role on Thursday stating that "this specific decision regards only FIFA."
The watches will be given to an organization named streetfootballworld, "who will directly invest all resources generated through the sale of the watches into initiatives across Brazil that use football to drive social change."
"The investigatory chamber of the ethics committee considers the matter to be closed," it said.
D'Hooghe said he had no idea about the value of the "poisonous gift" which was within a bag featuring promotional material about Brazil.
"I had absolutely no interest in that watch," D'Hooghe told The AP. "I found it in my bag and I did not know it was expensive. I gave it to a friend who visited the World Cup. I had to ask for it back."
D'Hooghe, who was cleared by the ethics committee this year over a painting he received from a Russian friend during the 2018 World Cup bidding contest, said he now refuses any gifts.
"I don't need any presents," said the Belgian doctor, who was first elected to FIFA's ruling panel 27 years ago. "I am an honorable man."