23-Year-Old Canadian Wins World Series of Poker, $8.94M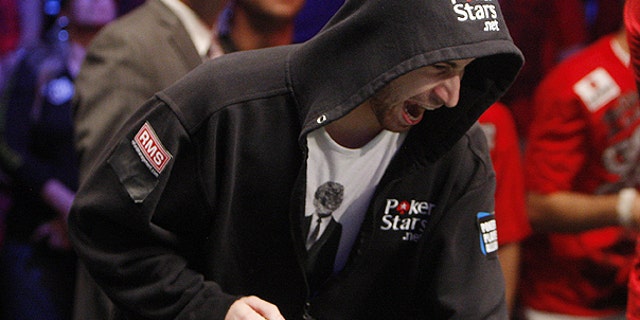 LAS VEGAS -- Canadian poker professional Jonathan Duhamel won the World Series of Poker main event title and $8.94 million on Monday night after keeping a stranglehold on his chips and pressuring his opponent.
Duhamel took the last of Florida pro John Racener's chips in the no-limit Texas Hold 'em tournament with an ace high after 43 hands where Racener was no better than a 4-1 underdog in chips.
Duhamel pushed Racener all-in and the Floridian called with a suited king-eight of diamonds. But Duhamel had an unsuited ace-jack for the lead.
A flop of two fours and a nine helped neither player; and Racener didn't improve with a six on the turn and a five on the river.
"It's a dream come true right now," Duhamel told the crowd at the Rio All-Suite Hotel & Casino as confetti fell from a theater ceiling. "It's like the most beautiful day of my life."
"Come join the party," he said, flanked by some 200 friends and family who rooted him on while wearing Montreal Canadiens jerseys.
Racener won $5.55 million for second place, never finding real traction in the biggest heads-up card match of his life.
Racener said his only good hand was pocket queens and he didn't pick up anything besides that better than an ace-deuce.
"I could never get anything going," said Racener, 24, of Port Richey, Fla. "It was unfortunate and he played it well."
Duhamel came into the heads-up match with a significant chip lead and kept Racener from gaining much ground in a session that lasted just over an hour.
Duhamel had nearly 90 percent of all the chips in play when players took a 10-minute break after 36 hands. The Boucherville, Quebec native intensified the pressure after that, pushing all in on three straight hands and dropping Racener's stack to just above 16 million chips.
When Duhamel pushed again, Racener unsuccessfully tried to make a stand.
Racener doubled his chips 10 hands into the session, after Duhamel had whittled his stack early on. An 11-1 underdog in chips, Racener called Duhamel's all-in wager with pocket queens and they held against Duhamel's king-four. The hand came just after minimum bets rose and gave Racener 36.9 million chips -- but he was back to his original stack less than 20 hands later.
Racener began the session a 6-1 underdog in chips, with just 26 big blinds in his stack at 30.75 million.
He spent most of the final table that started Saturday on the sidelines, watching as his opponents aggressively ate at each other's chip stacks. He didn't risk all his chips until he called a bluff by Filippo Candio with three queens, and doubled up twice more before watching as Duhamel withstood a high-pressure challenge from third-place finisher Joseph Cheong.
The hand brought Duhamel back where he started the final table -- with a big chip lead.
Chips have no monetary value in the tournament, and Racener had to lose all his chips to be eliminated. The tournament started in July with 7,319 players paying $10,000 each to enter.