2016 Philadelphia Phillies Preview & Fantasy Baseball Draft Prep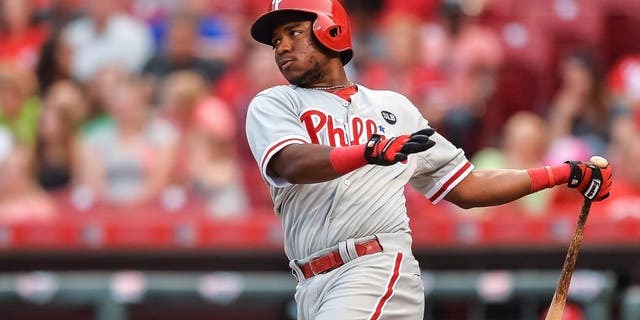 This team is going to be bad. Like, really bad. But maybe not as bad as the Braves. They've got some interesting young players, too.
(Note: When a player's fantasy draft status is mentioned - e.g., "he's an SP4" - the number is based on 12-team mixed leagues. ADP references are from NFBC drafts.)
ALSO SEE: TEAM PREVIEWS ARCHIVE
Key additions: OF Peter Bourjos, SP Jeremy Hellickson, RP David Hernandez, SP Charlie Morton, SP Vincent Velasquez
Key losses: OF Domonic Brown, RP Ken Giles
Projected Lineup
1. Cesar Hernandez 2B
2. Odubel Herrera CF
3. Maikel Franco 3B
4. Ryan Howard/Darin Ruf 1B
5. Aaron Altherr LF
6. Peter Bourjos/Cody Asche RF
7. Carlos Ruiz/Cameron Rupp C
8. Freddy Galvis SS
We're guessing at this lineup more than most, with Hernandez and Galvis possibly flip-flopping, or Herrera maybe batting first ... Hernandez might steal 25 bases but has no power at all, and he isn't an attractive option for standard leagues. DFS players should note that he hit lefties much better than righties in 2015 ... Herrera might play a corner outfield spot when Bourjos is in the lineup, but what do we care for fantasy purposes? He could match last season's eight homers and add to the 16 steals, but his BA seems likely to drop 10 or 20 points after a .387 BABIP. We probably wouldn't draft him as an OF5 unless we were strapped for speed ... The typical projection for Franco is .270-.280 with 20-25 home runs. He might reach those numbers, but he'll cost you, as he's being drafted as a top-10 third baseman ... Howard can't hit LHP at all, so he'll probably platoon with Ruf. This might not be so bad, as Howard could hit 15-20 HRs without the usual horrible BA (he batted .256 vs. RHP last year). For NL-only and some deeper mixed leagues, he's probably better in a limited role ... Ruf can be considered as a cheap DFS play vs. LHP, and that's all ... Altherr hit 19 homers and stole 20 bases between the minors and majors last season. He walked more than ever as well, so maybe a light bulb went off. However, he whiffed a lot (25.5%) after his callup to Philly. Not worth a standard league pick, but interesting for deeper formats ... Remember when Bourjos stole 50 bases in the minors? That was 2008. He doesn't run like that any more - he was caught eight times in 13 attempts last season - and can't hit ... Asche has some pop, and is eligible at 3B/OF. He's a platoon player projected for a poor BA, though ... Rupp's modest power makes him a better option than the aging Ruiz in your NL-only league. Is that a good endorsement? ... Galvis could move to second base when J.P. Crawford is ready. Last season's numbers are about all you should expect from him.
Projected Rotation
1. Jeremy Hellickson
2. Charlie Morton
3. Aaron Nola
4. Jerad Eickhoff
5. Vincent Velasquez
CL: David Hernandez
Hellickson's ERAs over his last three seasons are 5.17, 4.52 and 4.62. He'll be dangerous to own even in NL-only leagues ... It's easy to love Morton's extreme ground-ball tendencies, but there's not much else to like, as his career ERA is 4.54 ... Nola was solid in his first 13 big-league starts, and we should probably expect more of the same: A slightly above average K rate with an ERA between 3.50-4.00. He's just outside of our top 60 starters, but we won't argue if you take him as an SP5 ... Eickhoff might be less projectable than Nola because he's three years older, but he missed lots of bats last season (175 K in 184 1/3 IP) with good control between the minors and majors. He's interesting enough to be a target in your deeper mixed leagues ... Velasquez is a really nice, hard-throwing pitching prospect with a checkered injury history. His 55-inning audition with the Astros was flyball-heavy, and that could lead to many homers in Philly. Draft him hnly in deeper leagues, for now ... Hernandez was a pretty good reliever before needing Tommy John surgery in the spring of 2014, and resumed throwing heat upon his return to the D-backs last summer. He's the likely winner of the Phillies' spring closer competition
Sleeper: Keep Eickhoff on your radar as a possible early-season replacement. His ADP is SP87 (as of February 11), and you should know early if he'll pick up where he left off last year.
Top Prospects
J.P. Crawford, SS - Crawford is regarded as one of baseball's best prospects, and could be ready later this season. He's know more for his glove than bat, but he has decent speed and walked more than he struck out in 2015.
Nick Williams, OF - Williams batted .303 with 17 homers and 13 steals at Double A last season, and could join a young Philly lineup if he starts well. Based on scouting reports, Williams' middle name should be "Toolsy."
Jorge Alfaro, C - Power-hitting catching prospects are always interesting, but Alfaro whiffed 61 times in 213 plate appearances last season (an ankle injury cut his season short). He's worth drafting in keeper leagues with prospects, but seems like a boom/bust guy.
Roman Quinn, OF - MLB.com says that a full, healthy season "should help (Quinn) develop into an athletic leadoff hitter who will wreak havoc on the basepaths." He stole 29 bases in 58 Double-A games last season, folks. That's serious speed.