Who Speaks for Puerto Rico? Gutiérrez and Pierluisi's War of Words in Congress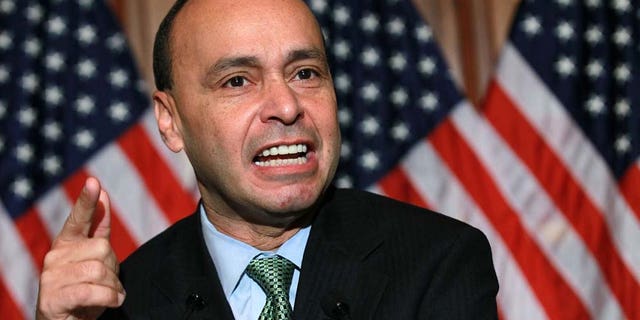 The war of words between Representatives Luís Gutiérrez and Pedro Pierluisi, borne of outrage over the violent clashes at the University of Puerto Rico, has manifested into a touchy feud over being Boricua.
The Puerto Rican members of Congress have been trading barbs ever since Gutiérrez used the House floor in February to raise alleged human rights violations during student protests at the University of Puerto Rico. Students have been fighting against the UPR's imposition of an $800 special fee tacked on to their tuition.
But Pierluisi, a non-voting Member of Congress and Resident Commissioner who was born in Puerto Rico, quickly shot back at Gutiérrez, suggesting that the Illinois congressman should keep his nose of Puerto Rico's business.
"The only member of Congress who represents Puerto Rico is the Resident Commissioner," he said. "The very least I expect from any colleague who purports to speak on behalf of my people is to have the decency to share their concerns with me."
That touched off a debate about whether Gutiérrez, who was born on the mainland, should be weighing in on issues about the Island.
"It's true that he wasn't born in Puerto Rico, nor his he elected by anyone in this territory," said Roberto Arango, the majority leader of the Senate of Puerto Rico, according to Primera Hora, a newspaper on the Island. "But thanks to the democracy in which he lives, he can say whatever ignorant nonsense he wants."
The issue of Puerto Rican identity is hardly new between Islanders and Boricuas born or residing in the U.S. But rarely has this family squabble taken place in the halls of Congress.
In his second address to members of Congress Wednesday, Gutiérrez again shined the spotlight on alleged abuses at the university –and blasted his critics, saying his pride, identity and right to defend Puerto Rico were unambiguous.
"I may not be Puerto Rican enough for some people, but I know this, nowhere on Earth will you find a people harder to silence than Puerto Ricans," Gutiérrez said. "You won't locate my love for Puerto Rico on my birth certificate, on my driver's license, or on my children's birth certificate, or any other piece of paper.
"My love for Puerto Rico is right here in my heart," he added, holding his hands to his chest, "a heart that beats with our history and our language and our heroes."
Pierluisi, for his part, stressed that he never questioned his congressional colleague's Boricuaness. He did, however, say whatever Gutiérrez's roots, his views on Puerto Rico were out of touch.
"If Congressman Gutiérrez wants to keep using the floor of the House of Representatives of the United States to damage the good name of Puerto Rico, he is within his rights," Pierluisi said in a statement Wednesday. "But he is committing an error.
"I never said he that he didn't the right to talk, and I never said that he wasn't Puerto Rican," Pierluisi said, adding that he wishes Gutiérrez would acknowledge the Island's vibrant democracy, to which it adheres in dealing with crises like the university protests. "I'd ask him to demonstrate his love for Puerto Rico...in that reality."
Nonetheless, Gutiérrez is unlikely to be stop speaking out on Puerto Rican issues – on his terms, through his prism as a Puerto Rican in the U.S., and from his district in Chicago. And at least one senator in Puerto Rico with a similar perspective believes he is well within his rights.
"The president of the Senate...wasn't born in Puerto Rico, the secretary of state...nor the majority leader...and yours truly either," said Eduardo Bhatia, the majority whip, according to Primera Hora, who was born in El Salvador. "But that doesn't make us less Puerto Rican, or less able to be representatives of what our nation represents."
You can reach Wil Cruz at wil.cruz@foxnewslatino.com.
Follow us on twitter.com/foxnewslatino
Like us at facebook.com/foxnewslatino