White House Prepares for State Dinner With Calderon, Focuses on Security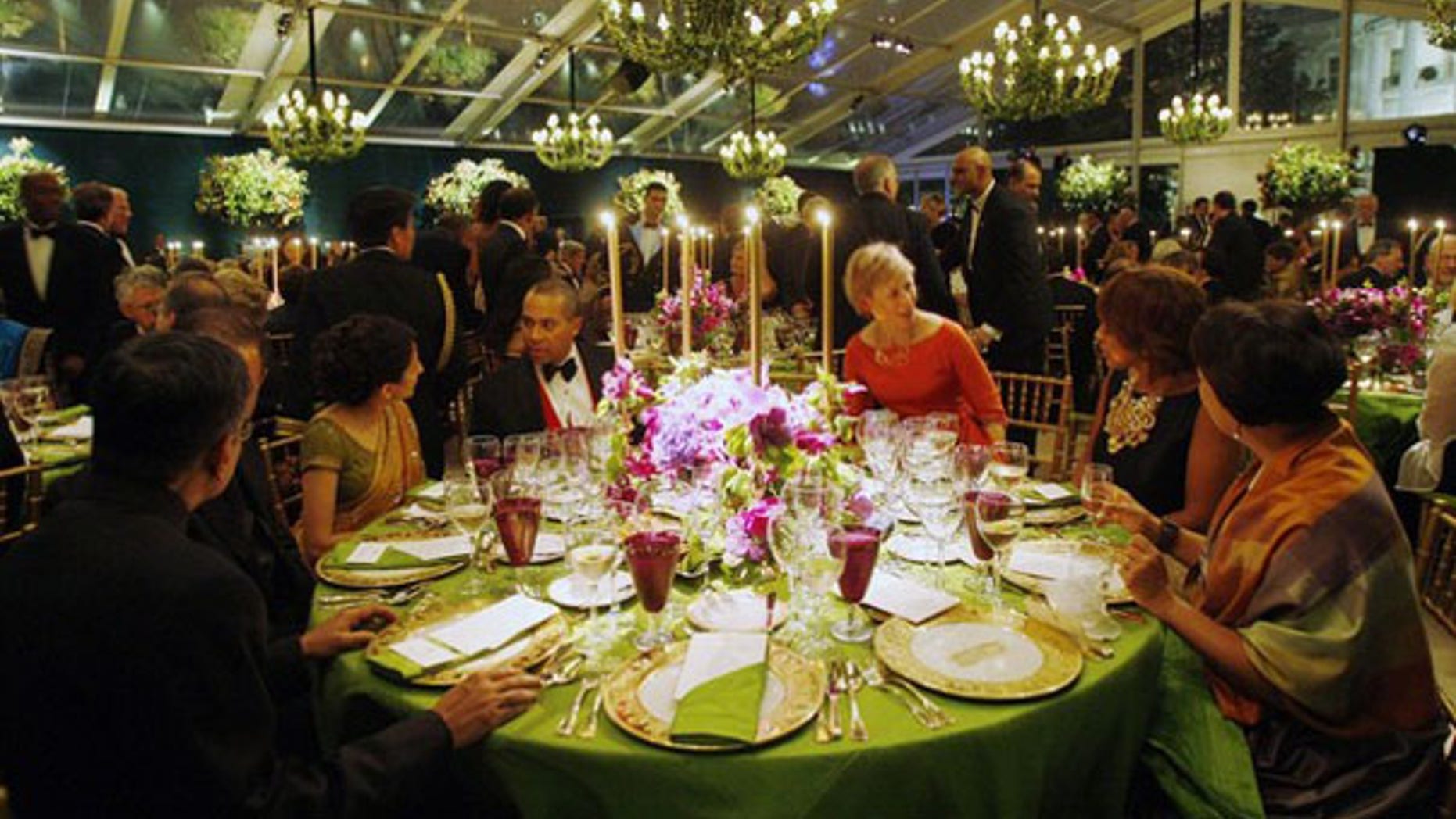 WASHINGTON -- One goal of President Obama's state dinner Wednesday will be to make Mexican President Felipe Calderon feel like the man of the hour. Another will be to keep uninvited guests from crashing the party.
Obama and first lady Michelle Obama weren't as lucky with their first dinner last November, for India's prime minister, when more than 300 guests dined and danced in a pavilion-like tent on the South Lawn. Only after the last song had been sung did the White House learn of an embarrassing breach in presidential security that allowed a husband-and-wife duo to crash the party and shake hands with Obama even though they didn't have an invitation.
The dinner will also be the official debut for new White House social secretary Julianna Smoot, who took over two months ago. Her tiny staff has been taking its cues from Mrs. Obama and working overtime to plan the black-tie affair. Smoot has faced seemingly endless comparisons to her predecessor, Desiree Rogers, who left the job after weeks of criticism over her role in the incident and demands from lawmakers that she testify about it to Congress.
The White House announced in March that Calderon and his wife, Margarita Zavala, would be the guests of honor. But compared to the frenzy over the Obamas' first dinner -- when it seemed all anyone wanted to know was how they might tweak this staid yet elegant White House tradition, who made the cut for the guest list and which fashion designer would create the first lady's evening gown -- the buzz over the coming Calderon fiesta seems to be lacking.
"The first of anything always gets a lot of attention," said Anita McBride, chief of staff to first lady Laura Bush.
Dinner buzz may have been drowned out, too, by a cascade of events since the White House announcement, including passage of a health care bill, the signing of a new nuclear weapons treaty with Russia, a summit on nuclear security in Washington attended by dozens of foreign leaders, the Gulf of Mexico oil spill, the attempted car bombing in New York's Times Square and last week's visit by Afghan President Hamid Karzai.
But expect the chatter to intensify as dinnertime nears.
"We are still, to this day, receiving phone calls from people who want to be invited," Ricardo Alday, a spokesman for the Mexican embassy in Washington, said late last week.
As with the first dinner, Mrs. Obama is bringing in a guest chef to cook for around 200 guests -- Rick Bayless, whose upscale contemporary Mexican restaurant Topolobampo in the Obamas' Chicago hometown is one of their favorites. Bayless has said the Obamas usually begin meals at the restaurant with tortilla soup and guacamole. So could those dishes, or versions of them, be on Wednesday's menu? The White House wouldn't say.
The last state dinner for Mexico was on Sept. 5, 2001, less than a week before the terrorist attacks on New York and Washington. President George W. Bush and his wife, Laura, treated then-Mexican President Vicente Fox and his new bride, Martha, to a dinner of bison crusted in pumpkin seeds and poblano whipped potatoes, followed by a fireworks display over the South Lawn.
The unprecedented attack derailed the two leaders' promises to collaborate on a revamp of U.S. immigration policy.
Immigration will be among the issues on the agenda when Obama and Calderon meet Wednesday. The issue remains unresolved and passions have been stirred anew by Arizona's tough new law targeting illegal immigration from Mexico. Calderon has said the law is discriminatory, and he has warned that relations with Arizona will suffer as a result.
Calderon and Obama have met more than a half-dozen times since Obama became president, but it's their wives who appear to be settling into a friendship.
Zavala visited Mrs. Obama at the White House in February, and Mrs. Obama visited Zavala at her home, Los Pinos, during a visit to Mexico last month. At several public events in Mexico, the first ladies laughed together and chatted. They also have some things in common: both are lawyers who gave up their careers to support their husbands' political ambitions and raise their children. The Obamas have two daughters: Malia, 11, and Sasha, 8. Zavala and Calderon have three kids: Maria, 13; Luis Felipe, 10; and Juan Pablo, 7.
For sure, the Obamas do not want a repeat of what happened in November. Nor does Calderon want his moment in the American spotlight to be eclipsed.
The White House reviewed its procedures after the Nov. 24 dinner and decided to station a staff member at the security checkpoint at social events to help resolve discrepancies about guests.
Signs of another tent being built on the South Lawn suggest that at least a portion of Wednesday evening's festivities will take place outside of the White House itself.
Among the rich and famous of Mexican heritage who have been invited are recently retired golfer Lorena Ochoa, who is perhaps the best-known, non-soccer-playing athlete in Mexico, and actresses Salma Hayek and "Desperate Housewives" star Eva Longoria Parker. Longoria Parker helped host a celebration of Latin music at the White House last year.