Union representing federal immigration officers throws its support behind Trump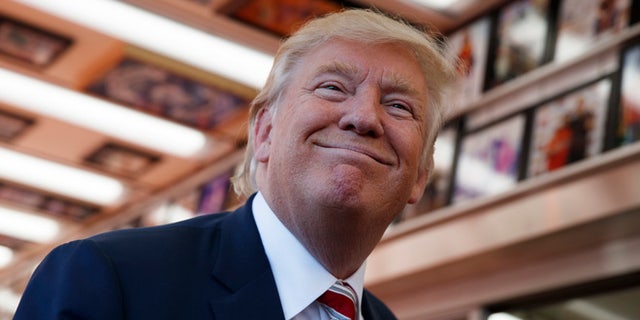 NEWYou can now listen to Fox News articles!
The union representing 5,000 federal immigration officers endorsed Donald Trump on Monday – giving him a boost hours before the start of the first presidential debate.
The National Immigration and Customs Council announced it would support the billionaire businessman over Democratic nominee Hillary Clinton. It is the first time the group has endorsed a candidate for president.
"The men and women of Immigration and Customs Enforcement (ICE) are the last line of defense for American communities. Our 5,000 officers, underfunded and undermanned, are responsible for enforcing immigration laws in a nation of 320 million people," the union's president, Chris Crane, said in a statement posted on Trump's campaign website. "Our officers come into daily contact with many of the most dangerous people in the world – cartel members, gang members, weapons traffickers, murder suspects, drug dealers, suspects of violent assault – yet ICE Officers are unable to arrest or are forced to release many of the most dangerous back into U.S. communities due to unscrupulous political agendas and corrupt leaders."
In the statement, Crane slammed the executive orders by President Barack Obama that are supported by Clinton that he said, "have forced our officers to violate their oaths to uphold the law and placed every person living in America at risk – including increased risk of terrorism."
"Our officers are prevented from enforcing the most basic immigration laws, including laws against illegal work, illegal entry, illegal overstay and also the public charge law," he continued.
Crane outlined in the statement that the endorsement for Trump was conducted by a vote of the union's membership and that the former Secretary of State received only 5 percent of the vote.
Immigration has been a hot-button issue throughout the presidential race, with Trump laying out a hardline position that includes proposing to build a wall along the U.S.-Mexico border and looks to crack down on the flow of undocumented immigrants entering the country.
According to Reuters, a CNN/ORC poll released on Sept. 7 said 49 percent of registered voters said they trusted Clinton to handle immigration, a slight advantage over Trump, who had 47 percent.
Unlike Trump, Clinton has never reached out to the union to speak to them ahead of creating her immigration agenda, said Crane, who added that her plan would result "in the daily loss of life and victimization of many, to include not only American citizens but also those attempting to immigrate to our country."
"America has been lied to about every aspect of immigration in the United States," he wrote. "We can fix our broken immigration system, and we can do it in a way that honors America's legacy as a land of immigrants, but Donald Trump is the only candidate who is willing to put politics aside so that we can achieve that goal."